Faculty at Red River College have stepped up to help produce 'ear savers' for Manitoba's frontline workers.
Rob Ataman, Serge Broeska, Jesse Jamison and Nino Caldarola — all instructors in RRC's Mechanical Engineering Technology and Manufacturing Technician programs — each volunteered to bring home one of the College's four 3D printers, which are capable of producing the pieces. Ear savers are plastic adapters worn at the back of the head to hold medical masks in place and eliminate strain, irritation and blisters caused by elastic straps.
"When I got the call to make these ear savers, I jumped at the opportunity," says Broeska, whose wife works as a physician at Health Sciences Centre. "As a technical college with a stellar reputation in the community, RRC is ideally suited to do its part and is contributing in so many ways. I felt this project was a no-brainer — a way to contribute while having to stay at home during this period of social isolation."
The College has partnered with Winnipeg Fighting Covid, a group of local hobbyists and makers who are using their personal 3D printers to create, sanitize and deliver the ear savers, and other protective equipment (PPE). The group has received approval and guidelines from Shared Health Manitoba to create and distribute the ear savers, and currently has 121 printers signed on to help with the cause.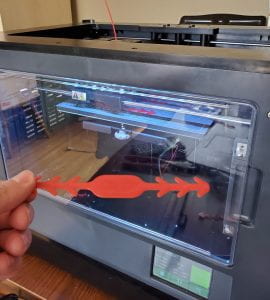 "We are Manitobans and when there is a need, Manitobans jump in to help," says Marc Hache, a Winnipeg Fighting Covid volunteer. "Prior to our group's formation, individual makers had — on their own initiative — sought out those in need, and printed and delivered well over 10,000 units."
Hache says every partner approached has responded enthusiastically, and he is proud to be part of the worldwide maker community's response to the crisis.
The RRC crew estimated they would be able to produce approximately 800 units per week, but wound up making more than 1,200 in the first seven days with the help of some friendly competition.
"There's actually a bit of a competition going on among the instructors to print as many ear savers as possible," Broeska says. "This project has really brought us together, where we can share ideas and have a bit of fun while we fight this pandemic." Read More →