We're what Manitoba is made of
Red River College's alumni community is a diverse network of entrepreneurs, contributors, and innovators with the power skills needed to drive industry in our province. Together, we champion Manitoba's largest institute of applied learning and research, and connect with each other, the College, and the wider business community.
Discover Blueprints for Career Success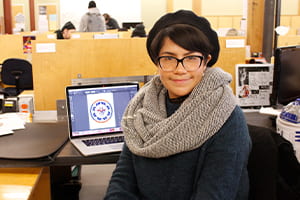 Thanks to solid foundations built at RRC, our alumni are forging their own paths to career success. Explore inspiring alumni success stories, exciting career boosters to help you reach your career goals, and continuing education and mentorship opportunities, all designed to help you form your own blueprint for career success.
Tap into exclusive alumni benefits

As an alumni member of Red River College, you have access to the support and services you need to get the most from your education.
Browse membership perks
Join Ten Thousand Coffees
Access employment services
Request a transcript
Stay connected

You are not only an ambassador of the College but also a vital link between the College and the community. Stay connected to the College and other RRC alumni, and watch your community grow.
Read alumni news and profiles
Update your contact information
Subscribe to RRC's alumni email newsletter
Get involved

A community is what you make it, so work your network! Get involved at the College – volunteer your time, attend a workshop or seminar, and show your support by giving back.
Donate to RRC
Reach your career goals
Recognize an RRC ambassador
Questions and feedback
We're committed to creating meaningful and valuable experiences for our alumni community. If you have ideas you'd like to share with us or have questions for us, please reach out to us at alumni@rrc.ca – we're always delighted to hear from you.