Transportation Technology
Whether you're ensuring planes take flight, or cars, trucks and powersport equipment remain reliable, RRC Polytech can prepare you for a career as a technician, engineer, mechanic or manufacturer.
Moving people and cargo between locations is a sophisticated process that requires sophisticated training. Take advantage of Red River College Polytechnic's dynamic learning spaces and industry-backed programs to develop a career as future-ready as your education.
91%

New Grads Hired

Our instructors know the ins-and-outs of their specialization areas and use our state-of-the-art facilities to teach the transportation technology experts of today and tomorrow.
$38K

Avg. New Grad Salary

With dynamic learning spaces like the hanger at our Stevenson Campus, you can get the hands-on experience you need to launch or grow your career.
98%

GRADS RECOMMEND

Gain access to immersive classrooms and shops, tools of the trade, and the in-demand skills needed to succeed in a growing transportation industry.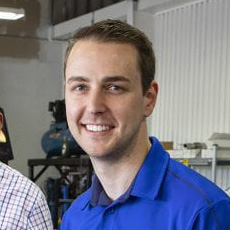 "The hands-on and the actual applicable knowledge that the instructors had was amazing to me. I found tremendous respect for every single instructor I had there. They've definitely been there, done that — you ask them a question, they've come across it."

Matthew Silva, Service Manager, Hi Tech Automotive
Graduate, Automotive Technician
Careers in Transportation Technology
Aerospace
Aircraft Technician
Automotive
Collision repair and refinishing
Heavy-duty transportation
Transportation, logistics, and supply chain management
Warehousing and distribution
Explore Programs
Check out our latest full-time and part-time programs and apply or register today!
See the Programs
Other Offerings
Average employment rate among recent graduates; retrieved from the 2019-2020 RRC Polytech Graduate Satisfaction and Employment Reports. ↩

Average based on data from the 2019-2020 RRC Polytech Graduate Satisfaction and Employment Reports. ↩

Average satisfaction rate among recent graduates; retrieved from the 2019-2020 RRC Polytech Graduate Satisfaction and Employment Reports. ↩