With the first term completed, it has been an exciting and successful return of the Nursing streaming program. Emerging Media and Production (formerly eTV) is proud to partner once again with the Nursing Department to deliver course streaming to regional classrooms in Winkler and Portage La Prairie. For the first time, the streaming program has been running symmetrically in Emerging Media's new Connected Classroom, with two-way audio and visual communication between the on-site and regional classrooms, utilizing the WebEx streaming platform.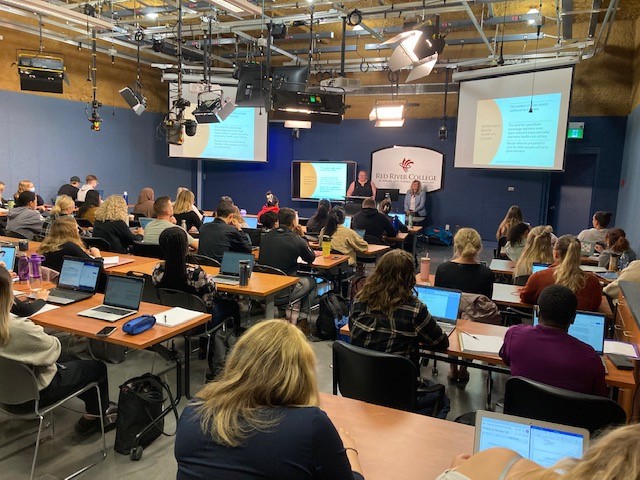 The Connected Classroom is purpose-built to live stream and record presentations and events synchronously, featuring multiple cameras, enhanced lighting, audio, and presentation technologies to capture detailed demonstrations and student/teacher interactions. Symmetrical communication between all Nursing campuses has been a goal that both Emerging Media and Nursing have been striving toward for many years. The ability to see and hear all students creates a greater sense of community and brings everyone the same opportunities for inclusion and participation in the classroom.
Emerging Media and Production is always innovating and expanding the capabilities and technology of the Connected Classroom to enhance teaching and learning for all students.
Post written by Dan Feriolo – Supervisor, Emerging Media and Production