Build a Better Future with Red River College Polytechnic
Will you donate to support Manitoba's future leaders?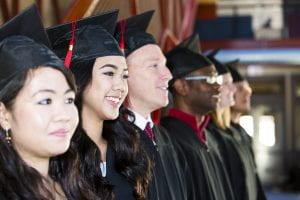 When you donate to Red River College Polytechnic, you become part of an unmatched legacy of responding to urgent industry and community needs. As Manitoba's leading institution of applied learning and research, this is what we do — and in this critical time of need for our province, we require your help to keep that legacy alive for future learners.
Your support will ensure that we can continue to prepare students for the jobs that Manitoba relies on, and that our province will prosper into the future.
We will rise to meet our challenges together, and together we will build a better future.
Preparing frontline workers to fight against COVID-19
Our graduates are entering a workforce that is changing every day, and we have a responsibility to ensure they're fully prepared. It's a responsibility we take seriously, and it's why we need your support.
In October, we answered the call to develop a program that rapidly teaches health-care workers how to perform COVID-19 nasal swabs in order to increase testing capacity in Manitoba. Even more recently, we launched a new program that fast-tracks training for students to work in personal care homes.
As a result, more than 300 new health-care workers will be added to the front lines, taking their place in the ongoing fight against this virus.
The Future of work – The Innovation Centre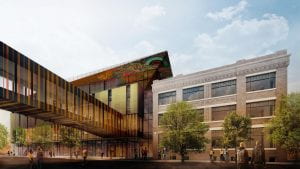 Red River College Polytechnic's new Innovation Centre — the first of its kind in Manitoba — is currently under construction in the heart of Winnipeg's Exchange District. Located across the street from the Roblin Centre, the new 100,000 square-foot facility will anchor Winnipeg's "Innovation Alley" and will provide an advanced model of education that joins students together with businesses and entrepreneurs through co-operative projects and research.
Designed to offer students a new kind of learning in a space shaped for collaboration, the Centre will attract and grow talented minds from Manitoba and around the world.
Industries such as game design, film training, financial technology and machine learning are growing in Manitoba. Working with Industry partners, Red River College Polytechnic has developed 16 new programs to train students for the province's most in demand careers.
Our graduates will enter the workforce not just as skilled workers, but as collaborative leaders.
Connecting through technology – ACE Project Space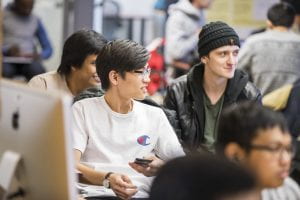 The Innovation Centre will expand the model of programming we've successfully employed in our ACE Project Space to as many of our programs as possible.
Over the past three years at ACE, students in business technology management, business information technology and information security have paired directly with entrepreneurs and businesses to complete real-world projects.
Through this model, students learn the technical skills needed to do their jobs well, and the power skills needed to be leaders: working as a team, delegating tasks, thinking critically and managing multiple priorities.
Since 2017, there have been 46 projects completed at ACE, providing opportunities for more than 240 students to work with 18 entrepreneurs and 28 industry clients.
With your support, our students succeed.
Student success happens when each individual has the facilities, equipment, skills and supports they need. In every industry exists an opportunity to move things forward – to make it better. When you donate to Red River College Polytechnic, we work together to help ensure each and every student can reach their potential and become leaders in their chosen field.
You become an integral part of our philanthropic community while investing in innovation and impact at Manitoba's largest institute of applied research and only polytechnic.