Many high school students don't know which career they want to pursue once they graduate. That wasn't the case for Kelliegh Rody, she knew what she wanted to do, and how to get there.
"It was something I grew up doing," said Kelliegh. "I always took care of my siblings and other people's kids. Being the oldest, I kind of took on that job of taking care of everyone. So, I wanted to put that work into an actual career."
Kelliegh recently completed the Early Childhood Education program at RRC Polytech and graduated this fall.
Early Childhood Education is a two-year program that provides graduates with the knowledge and skills needed to create environments that encourage the emotional, social, and intellectual development of young children.
"Honestly, I think just changing the lives of children, especially if I work with children who are in foster care, because I've been in foster care. And I want them to understand that you have support for your life," said Kelliegh about what she's looking forward to after graduation.
Kelliegh was the recipient of a Youth in Care Bursary which provides one year of tuition to the recipient.
"I want them to understand that whatever they see in the news and hear about some people turning out bad or having something happen, that doesn't need to happen. They have someone who cares about them," she adds.
In May, a gift of $1.5 million from the Joyce Family Foundation was announced and provides an additional ten bursaries each year for youth in care and students who face significant financial barriers to education. The newly created Joyce Family Foundation Bursary will soon be available to students in 2024 to help remove barriers that Manitoba's most vulnerable students face when transitioning to the College, including the cost of tuition, books and other services and supports.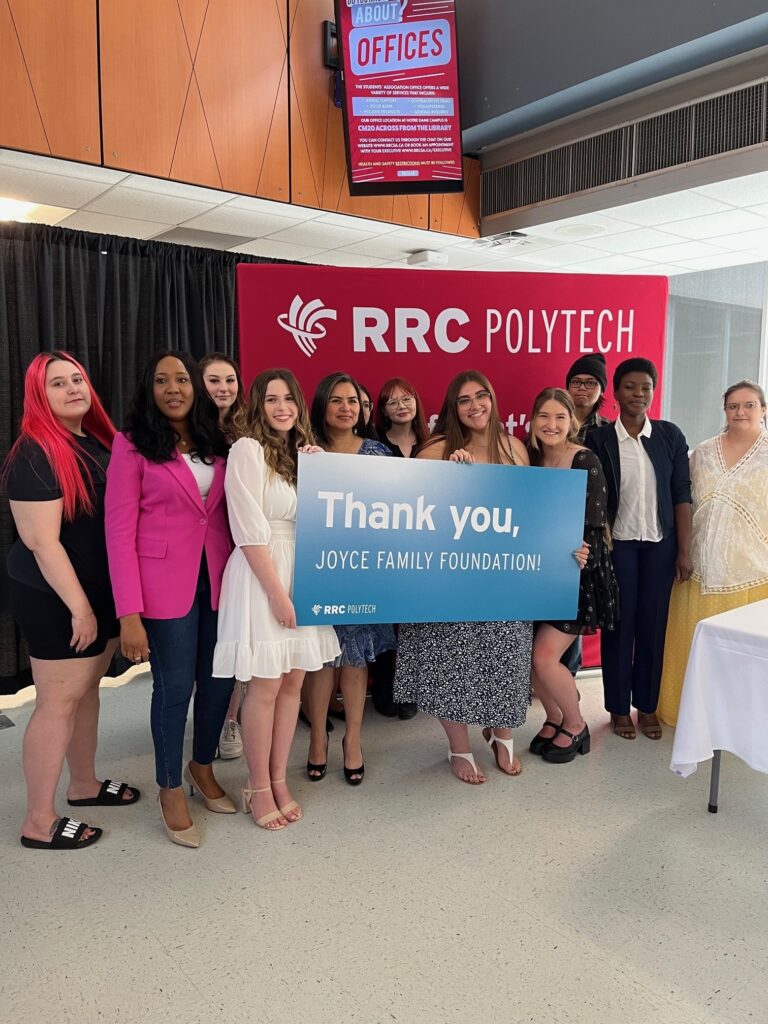 The Joyce Family Foundation is a private, family foundation created by Canadian entrepreneur Ronald V. Joyce. The Foundation's primary focus is to provide access to education for children and youth with significant financial need or facing other socio-economic barriers to success.
"My support worker told me to apply for the bursary. I did, and I got it. If I didn't have [the bursary], I think I'd be struggling in my academic journey. Because I was struggling with a part-time job while in college last year – I couldn't do both. It helped me out so I could stay in school full-time," said Kelliegh.
RRC Polytech is a partner of the Manitoba Scholarship Bursary Initiative (MSBI), and the annual disbursement from the Joyce Family Foundation gift will be matched by the Manitoba government at a 1 to 2 ratio.
When asked what she would tell people about applying for the bursary, Kelliegh said, "I would tell people to apply for it, like use it if you can, because it's definitely been really helpful."
Kelliegh has employment lined up once she completes her practicum and noted that most of her peers do as well.
"That was one of my favourite things about RRC Polytech – how diverse it is. Coming from high school, you're always with people the same age. And now, I have friends who are like 30-50 years old in my class and many international students, so it's been really interesting to understand different culture and traditions," added Kelliegh who is looking forward to sharing this love with the young children she'll be working with.
To celebrate the Joyce Family Foundation, RRC Polytech alumni, artist, and business owner Shaun Vincent of Vincent Design generously offered to create a special token to honour the gift and what it means for the College.
Shaun's design features Saskatoon berries, a summer fruit that is one of the earliest to flower and provides a place for bees to collect the nectar they need.
"I know what it's like to struggle to pay for school," said Shaun Vincent, adding that he wanted to find a way to honour both the recipients and donors in the expression of his design. "Especially when the recipients are youth in care, they need to know they have community support. Knowing that someone you don't know has thought of your circumstances and wants to make a difference is so important."
"Growing up in a family where finances were tight, I knew I wanted to create something to thank the Joyce Family Foundation for the opportunities they're providing young people."
In late October, RRC Polytech President and CEO, Fred Meier, had the opportunity to meet with Maureen O'Neill, Executive Director of The Joyce Family Foundation to thank them in person and present this meaningful, one-of-a-kind gift.