As Manitoba continues to grow, there's no question that the demand for skilled tradespeople is as high as its ever been.
According to the province's labour gap statistics, trades such as automotive service technicians, carpenters, electricians and construction labourers are some of the most in-need career paths over the next five years.
Trades, though, can be a male-dominated space. According to a 2020 study by BuildForce Canada, just five per cent of the 1.1 million trades people in Canada identify as female. While this is a significant increase from where the industry was 10 years ago (3.7 per cent in 2008), it shows just how important equal representation and creating space is when it comes to young women entering trades.
Enter the Girls Exploring Trades and Technology camp, or GETT. Started by RRC Polytech in 1999, GETT is a summer camp at the College's Notre Dame Campus where instructors and staff help introduce young girls aged 12 to 14 to a variety of trades — free of charge.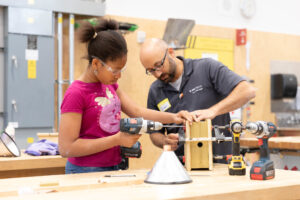 "The girls get exposure to a whole lot of different non-traditional career options for them," says Christina Lambert, who has been running the camps since 2006.
In a whirlwind four days, camp participants are introduced to plumbing, woodworking, cabinetmaking, welding, robotics, transportation, bricklaying, and more. At the end of their camp experience, each participant brings home a project made using experience earned in the camp: a desk lamp built with iron pipe. Read More →