Adão Lopes da Fonseca feels he was always destined to become a teacher. As a young child growing up in rural Brazil, he remembers constantly suggesting that family members of all ages play school with him, as long as he was the one leading the classes.
His passion for education never waned and he continued his studies with a goal of one day teaching English to the Portuguese-speaking middle and high school students of his homeland — but he never dreamed he'd end up perfecting his second language in Winnipeg.
That is, until he discovered that his excellent grades and achievements made him a prime candidate for an exchange program between post-secondary partners RRC Polytech and Instituto Federal de Educação, Ciência e Tecnologia do Ceará (IFCE).
It was an opportunity he couldn't resist.
"It's no longer something to dream of because I am living proof it can happen!" says Lopes da Fonseca. "I knew very little about the city, but my research warned me it would be frightfully cold, so my family was a bit worried. I was just excited about living a whole new life and making connections with so many new people."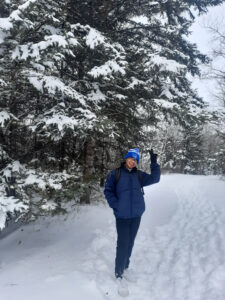 Lopes da Fonseca's four-month stint as a visiting student at the College's Exchange District Campus is about to end, and while he had to wait until his final few weeks for winter to arrive, a recent cold snap has given him a new appreciation of the term "freezing." As such, he's grateful for those new people in his life who taught him how to dress to stay warm.
He will soon return home and present a report to his class on all the things he's learned through the program, before collecting his English-Portuguese teaching certificate and license to teach middle and high school. He received a scholarship to come to Canada from his prospective employer, the Brazilian government, which will benefit from his experience observing classes, participating in lectures and seminars, and studying English for Academic Purposes teaching methodologies at RRC Polytech's Language Training Centre (LTC).
"The main challenge to learning English is pronunciation, because in Latin America they have good comprehension, they can read, they can understand really well, but they lack conversation, which is needed to speak confidently," he says.
"Most of the activities at the LTC are in groups, so when the instructors give out a task, everyone really helps each other and when you see that someone really wants to learn, it gives you the inspiration to give your best as a teacher." Read More →