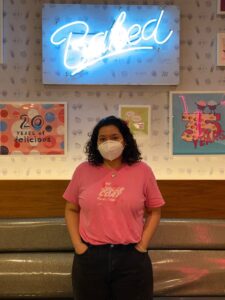 Imagine moving to a new place, more than an eight-hour flight away from home. It's your first time being away from family. You speak the language, but it's not how you regularly communicate — this is a totally new culture. Now imagine going to school there to train for the first job you've ever had.
Camila Quintanilla doesn't have to imagine — it's exactly what she did. In March 2021, she moved from Peru to Winnipeg to start a co-operative work placement through RRC Polytech's Hotel and Restaurant Management program in the Hospitality and Tourism Management diploma.
"I remember going through the immigrations office when I first got to Toronto, and I was so scared I was shaking," says Quintanilla. "I was so scared of not being able to do anything when I got here."
She didn't have to worry. This year, Quintanilla was named the Co-operative Education Manitoba (CEM) Co-op Student of the Year for 2021. She was also one of 39 co-op students — from a pool of 80,000 across the country — nominated for the Co-operative Education and Work-Integrated Learning (CEWIL) Canada Student of the Year Award. To top it all off, her co-op experience led to a full-time job at Baked Expectations. Not bad for her first work experience.
Read More →