Today, the Agora of Red River College Polytechnic's (RRC Polytech) Manitou a bi Bii daziigae building will transform into an action-packed racetrack. It's no Formula 1 – more like Formula 1/18 – as the vehicles in question are 1/18th scale, fully autonomous race cars with all-wheel drive, monster truck tires, an HD video camera, and on-board computer.
It's all part of the Winnipeg DeepRacer Competition, powered by Amazon Web Services (AWS) – a race that invites anyone aspiring to gain machine learning skills to compete. Eight student teams from RRC Polytech are in the running to achieve AI greatness, all while deepening their learning and building on skills they've built in the classroom.
"Today is the perfect display of some of the abilities that students in our Data Science and Machine Learning program are practicing everyday," said Fred Meier, President and CEO, RRC Polytech. "AWS's commitment to providing fast and agile opportunities for key learning outcomes makes working together a natural fit."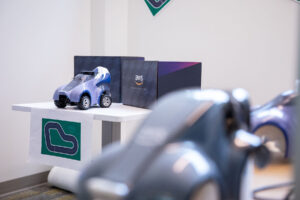 With AWS DeepRacer, people quickly learn to train, evaluate, and tune machine learning models in a virtual simulator before competing on the track – a learning model that aligns with RRC Polytech's own commitment to providing flexible, relevant training for the digital leaders of tomorrow.
"RRC Polytech is committed to meeting the emerging needs of students, as well as employers and industry – and we know that there's a huge demand in industry for reinforcement and machine learning skills," continues Meier. "Today's event with AWS highlights that machine learning is not some far-off, futuristic concept – it's the here and now, and students and industry are both eager to adopt it."
Read More →