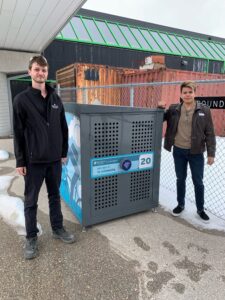 You can't make something from nothing. Unless you're in manufacturing — then you can come pretty close.
Just ask Ryan Ross, a CNC Machining and Advanced Technology student who created durable weatherproof covers for RRC Polytech's bike lockers.
"In the beginning I had nothing to work with," says Ross (shown, at right). "It all started with hours of CAD (computer aided design) to get an initial shape and feel for the part. Once I measured (the lockers), I realized my design fit quite comfortably and my second iteration was adapted to use the measurements."
After he 3D-printed his designs and confirmed they were functional, it was time to research the right material for the job. Another challenge: using something he had not worked with before.
"For the past two years I've learned to be a machinist — to work with metals. To be in a project with virtually no machining and work with a different material entirely … it was definitely a bit of a culture shock," says Ross. "It taught me a lot about the plastics manufacturing industry — it really shows you that even the simplest plastic piece has a lot of meticulous steps to perfecting the process."
Ross chose to make the parts out of two pieces of polyurethane resin, as it's tough, resistant to moisture and chemicals, and can be mixed with UV-resistant additives to boost life expectancy against the sun.
"I wanted to make something that was elegant and simple, but portrayed the College's pride and grace through a single act of production," says Ross. "It was hard to conceptualize in the beginning, but I got input from many instructors and fellow classmates and was able to finalize the design." Read More →