Innovation Centre to feature new-to-North America sustainable solar energy technology
Red River College is leading the way in the use of solar energy-conducting technology, providing opportunities for students and local construction firms to grow their skillsets.
Next week, electrical and building envelope crews will begin the installation of approximately 400 Kromatix Building Integrated Photovoltaics (BIPVs) — the first of their kind in North America — along the exterior façade of the Innovation Centre, currently under construction in Winnipeg's Exchange District.
"We're proud to be the first institution in North America to welcome this sustainable technology — it's only fitting that it's installed on a building designed to cultivate and foster innovative ideas," says RRC President Fred Meier.
"This is just one example of how RRC puts its values of sustainability into action, and demonstrates to our students there is always a better way of doing things, so long as you are open to new ideas and have the courage to ask, 'How can we make this work?'"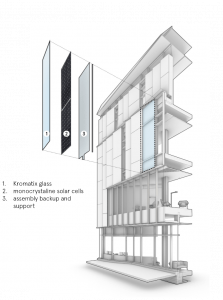 Developed by SwissINSO, Kromatix is an opaque glass — colour-treated without the use of paint or tint — that is layered over the solar, thermal and electrical components of each panel. The technology results in aesthetically impactful panels that are optimized for solar energy generation.
When combined with the building's 138 rooftop panels, the glass will allow the College to offset energy consumption by about 193Mwh/year, enough to power 18.5 average-sized homes for the same amount of time.
Diamond Schmitt Architects and Number TEN Architectural Group, who worked in tandem to design the new building, sourced the innovative product from Denmark. Using a procurement method called design-assist, subcontractors were brought into the project before the design was complete to ensure the vision was functional and achievable.
"It was really important for us to work with local tradespeople for the installation of the panels," says Frank Koreman, Project Manager at Akman Construction Ltd.
"Working with local trades to learn and install the panels means we have the technology here in Winnipeg, and it can be passed along and shared for future projects. The teams working on this project are loaded with RRC grads, so it comes full-circle to have been taught in school and then bring back new technology for an RRC project."
The RRC project team, along with Akman, Flynn Canada Inc. and Wescan Construction Services, worked with SolarLab in Denmark to learn and test the technology to determine how it could be adapted for Winnipeg's weather systems. When crews begin to install the panels next week, SolarLab will be on hand virtually to provide guidance and help resolve any hiccups.
"Construction in Europe is very different compared to construction in North America — there are different standards to meet, and with this project we've had to meet both," says Tyler Tomlinson, Manitoba Provincial Manager at Flynn Canada Inc.
"The panels are unique in that they provide an architectural finish, but there are a lot of layers that need to work together."
Before installation, the panels had to meet the standards of — and be approved by — the Canadian Standards Association (CSA), the City of Winnipeg and Manitoba Hydro. The panels were individually tested at SolarLab, with documentation provided to the construction team prior to installation.
"BIPVs and PVs are becoming more popular options in North America, and our standards are changing to reflect that," says Ron Nault, Project Manager at Wescan.
"When we started — because this is one of the first in North America with this type of modules — there were no other reference points in terms of building codes and electrical codes to go along with installation. We can now look to this building as a reference point for the future."
The Kromatix BIPVs are just one of the sustainable features of the new 100,000 square-foot space — other energy efficient technologies, including Power Over Ethernet (POE) lighting, Smart LSI Breakers and Wi-Fi outlets, will all play a role in helping the building reach near net zero and LEED Gold certification.
Once the building is complete, students in RRC's trades programs will be able to use the Innovation Centre as a living lab, measuring energy consumption and generation levels for electricity, heating, cooling, lighting and more.
The College, recently named one of Canada's Greenest Employers for the eleventh year in a row, will also use the research data to work with its partner institutions in Canadian Colleges for a Resilient Recovery (C2R2) to collaborate on programs that will support a green talent pipeline in Manitoba and across Canada.
Inset image courtesy of Number TEN Architectural Group.