Tragically Hip frontman Gord Downie's death affected so many Canadians in so many ways.
Fans placed wreaths, politicians gave teary tributes, and radio stations devoted endless airtime to the Hip's decades-spanning discography.
On Oct. 17, 2017 — the day Downie peacefully passed after a battle with brain cancer — local artist and Red River College grad Adria Warren found comfort in picking up a paintbrush.
"He's such a Canadian staple and the voice of Canada, some would say," says Warren, a 2015 graduate of RRC's Graphic Design program.
"I just feel like it really affected people. And when we found out he had cancer, I had actually just been touched by it pretty hard. I'd had loved ones who'd passed away, and one of my girlfriends is currently battling (cancer). So I just wanted to express this and make a difference with my art."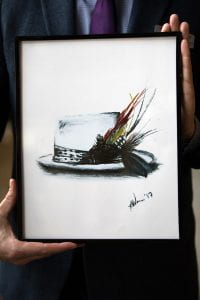 Little did Warren know the work she would create — a piece called Courage, featuring Downie's now-iconic feathered hat — would eventually be presented to one of those aforementioned politicians.
"I found that out and I'm still in shock," Warren says, of learning RRC President Paul Vogt gave Prime Minister Justin Trudeau a framed print of Courage last month. Trudeau was a good friend (and fan) of Downie's, so the College thought Warren's painting would be a meaningful way to showcase the talent of their grads.
While Warren has yet to receive a response from the PM's office, she can take great satisfaction in the fact that Courage has raised more than $3,000 for CancerCare Manitoba. All of the proceeds for the painting have gone directly to the charity. Read More →