Resilience on the frontline
This time of year is when we normally share milestones achieved by our students, faculty, and alumni over the last twelve months. And even though this year looks unlike anything any of us could have imagined, there is no doubt that 2020 will always be a year we remember. Read on for exciting alumni updates, as well as how Red River College is preparing frontline workers to fight against COVID-19 and help rebuild Manitoba's economy.
Many of our alumni can reflect back on their time at RRC as an important part of their personal journey, and the stepping stone that helped them reach their career goals. Whether is was an instructor who took the time to give you constructive feedback, a work placement that connected you with your current employer, or a classmate who showed you a different way of doing things – the connections you made at RRC have helped you to be where you are today.
Will you support our future leaders?
Building a Better Future – Giving Tuesday
RRC has an unmatched legacy of responding to urgent industry and community needs. As Manitoba's leading institution of applied learning and research, this is what we do — and in this critical time of need for our province, we require your help to keep that legacy alive for future learners.
Today is #GivingTuesday, a global initiative that reminds us to think of others and to give back to our communities. When you give to Red River College, you are empowering students to grow their skills and confidently graduate into an ever-changing workforce.
Your gift will provide today's students with the same mentorship, guidance, and hands-on training you received as a student, and allow RRC to continue its role in training the leaders of tomorrow.
Faces of the Frontline
We are grateful to all of you who have given back to the College this year. Some of you have volunteered your time to welcome new grads at our convocation ceremonies. You have facilitated panel discussions, lead workshops, and helped our faculty teach our future leaders as guest speakers. You have graciously let us interview you for alumni profiles. And you have donated to support our students throughout the COVID-19 pandemic. All of these acts of #covidkindness have shown how awesome the RRC community is.
We continue to be in awe of your adaptability and creativity throughout this pandemic. Many of you have shown up to give back to the wider Manitoba community. You have also inspired us with your ability to not only survive but also thrive in our new normal.
Two RRC alumni are featured in a national video series with Polytechnics Canada highlighting frontline workers. Thanks to their polytechnic education at RRC, these two grads were prepared to step up when Manitobans needed them most. Read the full story here.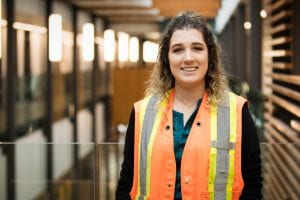 Allison Enns (Architectural/Engineering, 2017 and Construction Management, 2019)
Allison Enns's work placements while she was an RRC student allowed her to work on RRC's Skilled Trades and Technology Centre. She is now employed by Akman Construction Ltd., where she is the site coordinator for RRC's new Innovation Centre. Even during lockdown, construction has continued in our city. Watch Allison's video.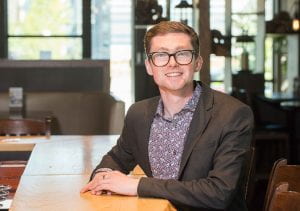 Chad Corbett (Hospitality and Tourism Management, 2014)
After graduating, Chad Corbett took on a variety of event planning and catering roles in Winnipeg and Saskatoon. He moved back to Winnipeg to become co-owner of a new restaurant concept, Block & Blade Restaurant and Bar. The restaurant opened right as Manitoba declared a state of emergency and entered its first lockdown. Watch Chad's video.
---
Do you have a story to share? We'd love to hear it. DM us on social media, email us, or update your contact information to let us know.