Sharon Steward's cooking is a real crowd-pleaser — and her new cookbook is sure to be, too.
A Continuing Education instructor at Red River College, Steward is busy prepping for the launch of Volume: Cooking for a Community on Sat., Dec. 2, at McNally Robinson Booksellers.
The book is inspired by Steward's role as the kitchen manager and head chef at InterVarsity Pioneer Camp Manitoba, a Christian summer camp located on MacKinnon Island at the north end of Shoal Lake.
During camp season, Steward and her staff are responsible for serving three meals a day (plus snacks) to anywhere from 180 to 200 people at a time. Suffice it to say, she knows how to cook for a crowd.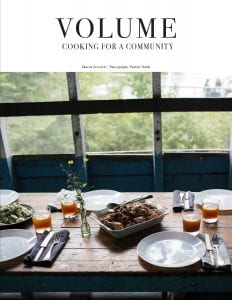 "Each recipe in the book has an amount for four to six people, and then also for about 80 servings," Steward explains. "It's a very exciting tool — one I'm hoping a lot of other places, facilities and individuals can use to help them serve their communities.
"(Given) the types of food service people do, people cooking in their community centre or their monthly church meetings or in athletic groups, this book has huge potential and there really isn't a current resource like it."
Steward graduated from RRC's Culinary Arts program in 2002. Prior to enrolling, she worked at the Wildgrass Café on Pembina Highway and Bread & Circuses Bakery Café off Corydon Avenue.
She first became interested in cooking as a young child, growing up on a grain farm between the towns of Oak Bluff and Sanford, Man.
"Cooking and baking from scratch was a very natural and common part of our everyday life," Steward says. "I have many memories of my mom and I packing up meals and taking them out to the field. We'd take a table and chairs out, and set up a full picnic on the back of the pickup truck." Read More →