Planting seeds: Community Development grad delivers hands-on learning to high school students, new immigrants
To say Raymond Ngarboui has made the most of his time in Canada is an understatement.
Since moving to Winnipeg 12 years ago, the Chad, Africa, native has amassed a list of accomplishments longer than most people do in a lifetime. As a community development coordinator, he works to support fellow immigrants and other residents who struggle to make ends meet, all while sitting on various boards and volunteering for organizations like UNICEF and the United Way.
He's won countless accolades for his work – including a recent Premier's Volunteer Service Award – but Ngarboui insists that he's the one who's grateful, especially for the education he received from Red River College.
"For me, it's not about being recognized, it's about doing what I've been doing, and of freeing myself of moral debt that I've been carrying," Ngarboui says.
Like many other newcomers, Ngarboui didn't speak English when he arrived here on Sept. 27, 2005. The inability to communicate made those early days difficult for him.
"I was feeling loneliness, I was feeling homesickness," he says.
Thankfully, Ngarboui is a fast learner. Shortly after enrolling at RRC's Language Training Centre, he became fluent in English and his "life started getting better."
One of his first priorities at the time was to give back to UNICEF, an organization that had helped him as a child. In civil war-torn Chad, when all the schools had closed, UNICEF was there to provide some education for Ngarboui and his fellow classmates, despite the circumstances. Once in Winnipeg, he located the office and began working there.
"I wouldn't have been able to graduate to the level that I am today without the help of UNICEF," he says.
After completing the Language Training Centre's post-secondary prep course, Ngarboui considered studying agriculture at the University of Manitoba – an area he'd begun studying back home – but wanted to find a way to meld his passion for farming with his devotion to his new community. He discovered RRC's Community Development/Community Economic Development program, and knew it was the perfect fit.
While enrolled in the two-year program, Ngarboui was particularly inspired by a course called Board Management, so much so that he wanted to apply his newfound knowledge to an organization – right then and there. He applied for a job on the board of directors for CEDA – the Community Education Development Association – and began working there during his second year at RRC.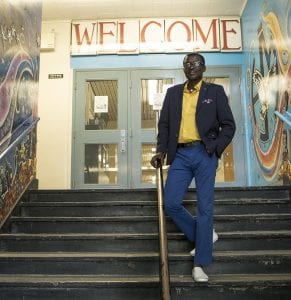 Shortly after he graduated in 2009, there was an opening for a community development coordinator at Hugh John Macdonald School, which he landed.
"If you graduate from Red River College you have more than an 80 per cent chance of getting a job, unlike some other schools" Ngarboui says.
Plus, Ngarboui gets to be one of those lucky folks who love what they do for a living.
Through his position at Hugh John Macdonald School, where he oversees CEDA's Pathways Student Post-secondary Project, Ngarboui prepares students for the future by teaching them hands-on skills with a special focus on health and nutrition.
This includes his true passion project: a community garden for immigrant families. Throughout the year he raises funding to provide students with the equipment required to run the garden.
Once the seeds are in the ground, it's up to students to maintain the plants – even during the summer months, when they can earn $500 for tending to the crops and attending workshops on leadership-building and development.
The project is not unlike Rainbow Community Gardens, a program Ngarboui founded with friends in 2008. Along with local vegetables, immigrant families are invited to use these gardens – located at the University of Manitoba, the floodway and even in Niverville and Landmark – to plant traditional crops from their native countries.
It's also a way for newcomers to escape some of that loneliness Ngarboui was all too familiar with when he moved here, while maintaining a healthy lifestyle.
"When I was growing up, my parents had to carry me from one village to another to escape the war, to escape the military," he says. "When my parents did not have enough to feed us, the other community members intervened. We would go to the neighbours to eat food from their farm, their fields. I was in that difficult situation where I couldn't survive without my village's support. I feel a moral obligation to give back to other people when I can."
Thanks to the knowledge he obtained from RRC, and the support he has received in Winnipeg, Ngarboui has been able to support his younger sisters and mother (a widow) in Chad, as well as his 17-year-old son, who lives with him in the city.
As for Ngarboui's ultimate career goals? Well, he's already living them.
"I don't have dreams. It's about building on what I've already accomplished here and taking it to a higher level."
— Profile by Lindsey Ward (Creative Communications, 2004)