Mental Health Week, May 3 – 9, 2021
What is Mental Health Week?  Why do we need a week to focus on this?  I don't have mental health problems, so why make a big deal out of it?
All good questions with some very important answers.
Mental Health Week helps to break a long-standing veil of secrecy about this important part of our lives.  Talking about mental health destigmatizes it and brings awareness to the fact that no one is immune to mental health issues, be they short or long term, mild or debilitating and that yes, there are resources and treatments available.  In short, this week endeavors to provide information, increase awareness, end stigma and promote treatment.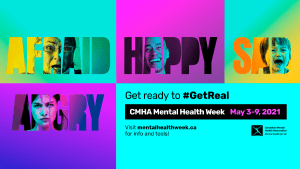 The Canadian Mental Health Association's 2021 theme is "#GetReal about how you feel. Name it, don't numb it", and in this time of Covid-19, mental health is increasingly being talked about.  We are more anxious, isolated and lonely, and more unsure of the future.  It's important to give names to our feelings and emotions; the good ones and the difficult and challenging ones too.  Naming your emotions is the first step in dealing with them and recognizing they are normal and we all deal with them.
Mental Health Supports at RRC
Red River College has supports available.  These include the Healthy Minds Healthy College initiative, Mindfulness training through the MindWell platform, Counselling Services, College Athletics programs, an Employee and Family Assistance Program, Mental Health Workshops for students, and more.
RRC Library has many valuable resources also, such as a guide about the Healthy Minds, Healthy College initiative which contains links to print and electronic books, videos and relevant external websites. We also have Light Therapy lamps available to borrow, to combat Seasonal Affective Disorder.
Selected Resources
Below are just two of our many print and electronic resources; please email library@rrc.ca for more resources, or contact us via our Online Chat Service available on our Library Homepage.
                                
Tantillo Philibert, C., Soto, C., & Veon, L. (2020). Everyday self-care for educators : tools and strategies for well-being. New York: Routledge, Taylor & Francis Group.
Leibow, D., & Leibow, D. (2010). What to do when college is not the best time of your life. New York: Columbia University Press. https://doi.org/10.7312/leib15174
How is your mental health? If you have concerns remember, help is available and you are not alone.