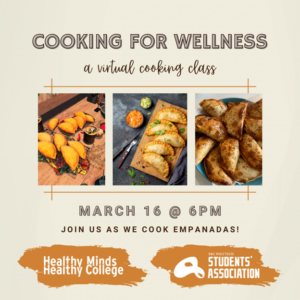 During times of stress, it is essential to focus on maintaining and developing tactics that support us in maintaining our self-care. This includes ensuring we are eating enough, getting enough water, and sticking to a sleep routine. Sometimes self-care is very practical, and it can just make sure we are putting food into our bodies. So, show yourself some love, and care by joining us at Cooking for Wellness!
Date: March 16th 2022
Time: 6:00pm – 8:00pm
Abby Legaspi is a Nutrition graduate from the University of Manitoba with 10 years' experience running cooking programs for different non-profit and grassroots organizations. She now works at Norwest Co-Op Community Food Centre. She is passionate about almost everything related to food, from gardening to cooking. Abby sees food to connect people while recognizing that food insecurity can be experienced by so many. As an advocate for good food, Abby hopes that one day everyone will be food secure.
This month we will be learning how to make Empanadas. Click the link to register, and there is the option to receive a cooking kit.
Bring Your Own Supplies
1/3 cup frozen peas
1/2 cup onions, chopped
1 tbsp garlic, minced
1/2 lb ground beef
2 tbsp oyster sauce
2 tsp brown sugar
1/3 cup carrots, diced
1/2 cup potato, diced
2 tbsp soy sauce
1/4 cup raisins (optional)
pepper
pie dough