Know Your Resources! Part 3: Knovel: Aerospace and Radar Technology
The Library at RRC Polytech has an abundance of resources to help you with your studies, research, and even pastimes. Over the next few weeks, we will highlight some of the fantastic databases that you have access to.
What are databases?
So, databases. What are they? How are they useful to me? And why are there so many? The databases we subscribe to are specifically chosen to align with the college's programs, initiatives, and individual courses that are offered to our students. Each database has specific information on areas of interest to help with your studies. Some databases are specifically ebooks, some are journals on the latest information in the field, and some are entirely composed of videos.
To optimize the availability of information, there are several databases we subscribe to. The great thing about this is that you simply choose one database and search for what you need as opposed to having too many results about irrelevant topics.
Each database has different tricks and tips to make sure you're able to search for the right information. They're not all set up the same and each will have its own set of rules to make sure you're getting the most out of it.
Let's explore one of our newest editions to the database collection.
Knovel: Aerospace and Radar Technology
You may have already used or heard of the Knovel database. Knovel is a database of ebooks covering many aspects of the engineering field. Not only does it provide valuable information, but it also has interactive equations, unit converters, and other handy tools for engineering work. Within the Knovel database, we subscribe to different collections. The newest one is Aerospace and Radar Technology. Knovel is intended to be used by professionals and students alike and so a mobile app was created. Having the app on a mobile device offers quick access to the information.
Since there are a variety of collections available through Knovel, check out some tips below for searching this specific collection.
When you first open the Aerospace collection, you'll notice that there are hundreds of references and equations. Like the previously covered Alexander Street database, RRC Polytechnic has only subscribed to certain portions. To make sure that you're getting accessible information, click the "My Subscription" tab.

Once you've clicked the correct tab, you'll notice that there are fewer sources you'll need to comb through.
Like any database, you are able to filter and use search terms. As you type your search terms, the results will automatically start to filter through.

When you have found a book or manual you're interested in viewing, simply click on the link and the eBook will show up. Once you're in, more filtering options are available such as searching within the reference text. It's best to be specific as you may get hundreds of results.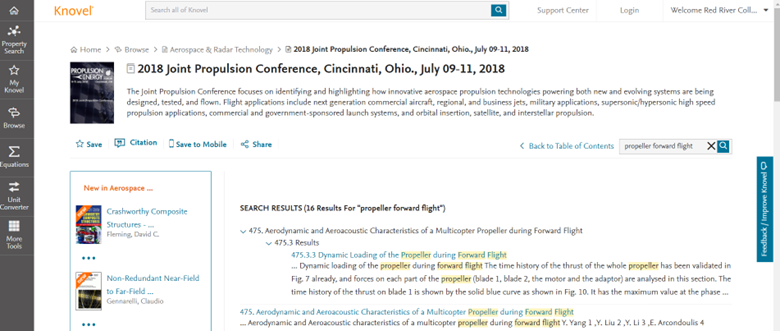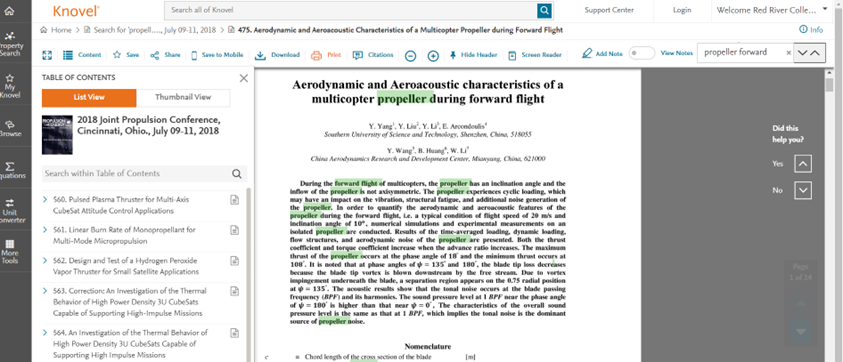 One of Knovel's handiest features is "add notes." By clicking this, you are able to add additional information such as a study note or a read-later note. However, in order to access this feature you will need to make an account with your RRC Polytech email address. It's very easy to do and this way, your added information has a place to be stored.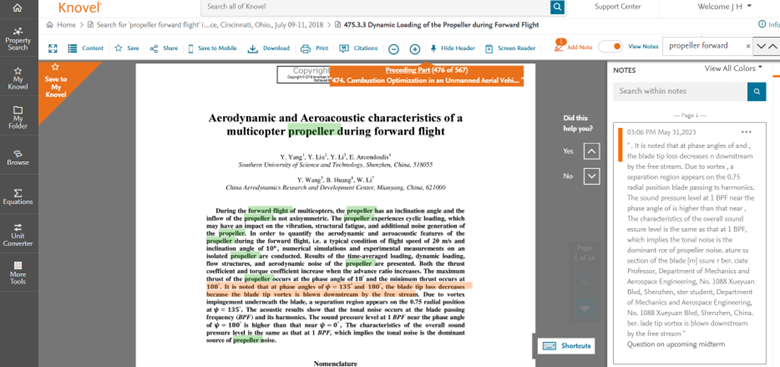 You also have the option to save the reference material or the chapter you're browsing to either your account or your mobile device.
By clicking "My Knovel" on the left, you're also able to see what other items have been saved for further reading or access, recent searches, and recent views. You can also look at your specific saves under "My folder."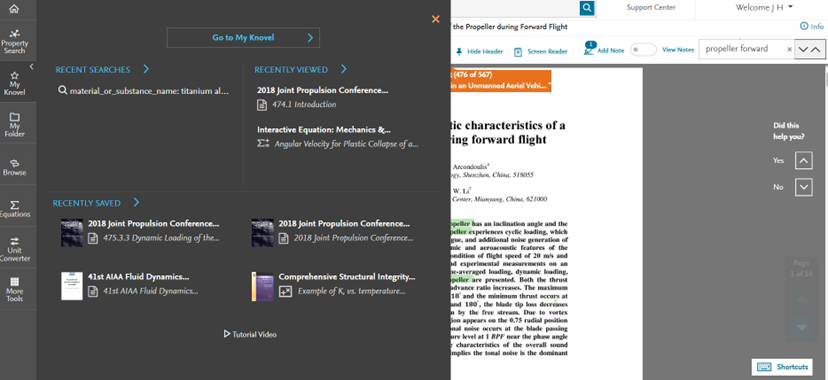 As you can see, Knovel has a lot of great capabilities for you to access Aerospace and Radar Technology's content. You have the option to filter inside of materials, add your own notes, save chapters, and easily pick up where you left off. A perfect tool for students and professionals needing quick access to information.
Stay tuned for more of "Know Your Resources!"
Keep an eye out for the next installment of Know Your Resources! where we will continue to explore all the great resources the Library has to offer. If you have any questions on how to access or navigate something come and visit us in the Library or send us a message through our Ask Us Chat — we'd love to assist you.
The previous edition of Know Your Resources! is available here >> Part 2: Alexander Street Nursing Video Collections
Written by Justine Hawley – Library Resource Management Technician