Know Your Resources! Part 2: Alexander Street Nursing Video Collections
The Library at RRC Polytech has an abundance of resources to help you with your studies, research, and even pastimes. Over the next few weeks, we will highlight some of the fantastic databases that you have access to.
What are databases?
So, databases. What are they? How are they useful? And why are there so many? The databases we subscribe to are specifically chosen to align with the college's programs, initiatives, and individual courses that are offered to our students. Each database has specific information on areas of interest to help with your studies. Some databases are specifically ebooks, some are journals on the latest information in the field, and some are entirely composed of videos.
To optimize the availability of information, there are several databases we subscribe to. The great thing about this is you simply choose one database and search for what you need as opposed to having too many results about irrelevant topics.
Each database has different tricks and tips to make sure you're able to search for the right information. They're not all set up the same and each will have its own set of rules to make sure you're getting the most out of it.
Let's explore one of our newest additions to the database collection.
Two collections offer over 600 videos on nursing topics
This week's featured resources are collections within a new database that RRC Polytech's library has decided to try out. The database itself is called Alexander Street. We have subscribed to two different collections, which are also referred to as channels, within it: Nursing and Mental Health in Video: A Symptom Media Collection and Nursing Education in Video: Third Edition. Together, both collections provide over 600 videos on healthcare topics to help with studying or teaching.
Collection 1: Nursing and Mental Health in Video: A Symptom Media Collection
If you're looking for information related to mental health, this will be a resource for you. This extensive collection has real case studies of different forms of mental illnesses and their symptoms. The information provided will help to understand patients and key takeaway videos for case studies.
Collection 2: Nursing Education in Video: Third Edition
Medcom has been providing high-quality, award-winning training videos for healthcare professionals for years. Luckily, all their up-to-date videos can be found within this collection. Useful for professionals and students alike, the training videos are real examples of clinical practice.
Since Alexander Street is a database and there are many different channels, searching for information can be a little overwhelming and even frustrating. Below are some ways to maximize your results and make sure you're finding relevant content.
When you first open the database, you'll be on the front page of the collection that you've chosen, from the Databases A-Z List, which will look like the image below.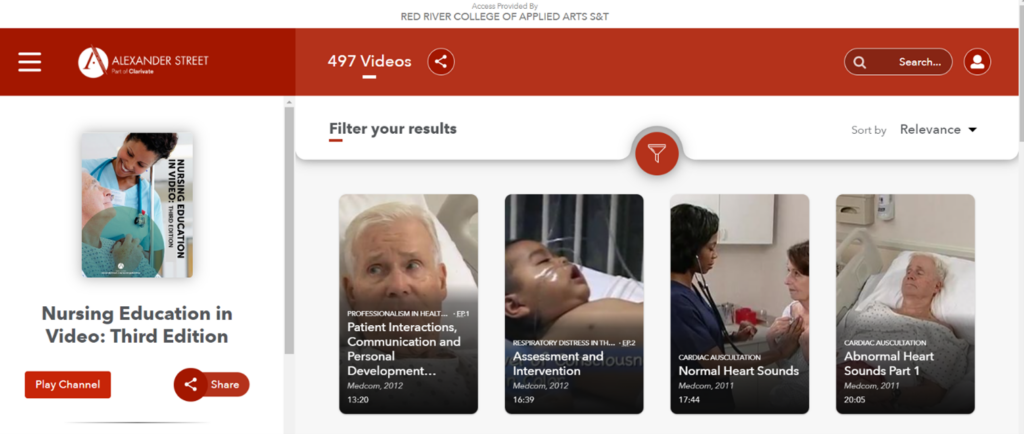 From the front page of the collection, you can see there are a few ways to browse videos by using a search bar, filtering, or playing the entire channel.
---
When Using the Search Bar, Filter to "Current Channel"
The search bar of this database is finicky. As mentioned, Alexander Street hosts many different collections/channels. If you search for something incorrectly, it may show you content that you will not have access to. When you begin a search, make sure that the filter is set to "Current channel" (as shown in the image below).

If you use this filter, you'll be able to find the appropriate results which you can either filter through or browse through later.

---
Without the "Current Channel" filter
What happens if you forget to do that and you search in "All videos" or "All channels?" Then your results are going to be skewed, as shown in the image below.

---
Return to the Nursing Video Channels
You can get back to the channels owned by RRC Polytech by clicking the menu bar on the upper left corner of the page (shown below).

From here, select "Collections"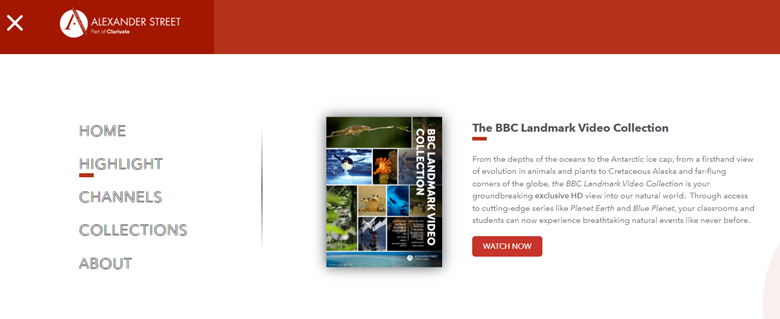 You will be taken to this page where you can go back to browsing our subscriptions.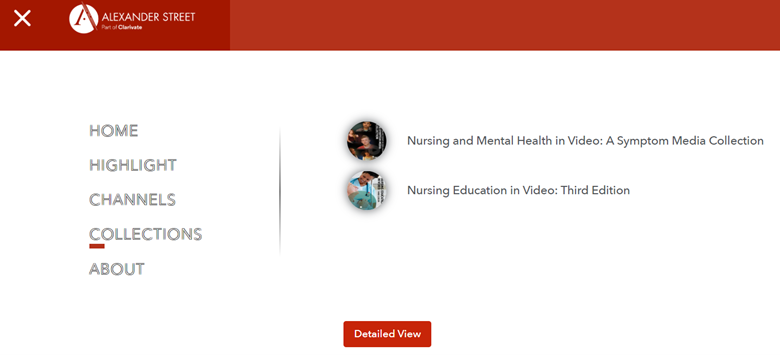 ---
Filtering results in conjunction with a keyword search
You can use filtering alongside search terms, as shown below searching with the keyword "depression."

Filtering results without a keyword search
Generally, when you're searching through databases the filters go alongside a search term. However, in this database filtering can be used on its own without having to use search terms. It's very convenient because it lets you see what kind of options are available to browse and you're able to narrow down your results significantly.

---
With your new knowledge of Alexander Street, you're now ready to look at these resources on your own. Keep your skills fresh and expand your existing knowledge by looking at these great healthcare resources.
Stay tuned for more of "Know Your Resources!"
Keep an eye out for the next installment of Know Your Resources! where we will continue to explore all the great resources the Library has to offer. If you have any questions on how to access or navigate something come and visit us in the Library or send us a message through our Ask Us Chat — we'd love to assist you.
The previous edition of Know Your Resources! is available here >> Part 1: SafetyHub
Written by Justine Hawley – Library Resource Management Technician