Open Education Resources to support online teaching and Instruction
With the COVID-19 pandemic driving college courses into online learning environments, open educational resources (OER) are essential tools for educators because they allow instructors to reuse, remix, revise, redistribute, retain, resources without expense, and without seeking copyright clearances for use, and adaptation of the material. Through collaboration with educators who contribute their subject matter expertise, Open Educational Resources provide a sustainable and customizable option for delivering online teaching methodology.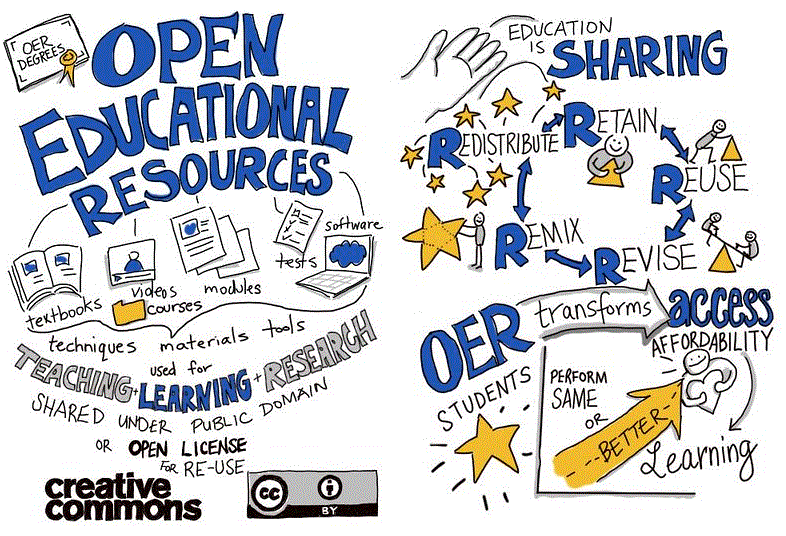 OER Development at RRC
You may have seen past information from Red River College on its work to drive OER development. The Teacher Education department at Red River College is in the midst of creating an Open Education Resource that will supplement Teacher Education courses and Faculty Development on post-secondary campus' across Manitoba and Canada.
In partnership with Campus Manitoba and the Manitoba Flexible Learning HUB, a framework for the resource was developed.
For more information on the project visit the OER Project page or view the following video:
How do I use Open Educational Resources?
Most OER resources are digital and can be embedded into the campus's learning management systems (LEARN). Like using any teaching and instructional material the first step is finding Open Educational Resources that support your subject area. The Library can be a key ally in assisting you with sourcing OER content for your subject area and you can also explore resources on your own.
The library has an OER landing page to get your started finding OER's to meet your instructional needs. Once you find a resource you would like to use you can download it, adapt it to your needs, and upload it in LEARN or you can link to a completed OER's online.
How Open Educational Resources Support Students.
Use of OER's helps to reduce the cost of educational resources for students. As textbook costs continue to rise OER's can provide free or low cost alternatives to textbooks. The use, creation, and adaption of OERs in teaching and instruction can also provide enhanced opportunities for self-learning at home.
OER's can act as engaging tools to develop digital literacy skills for: searching, reusing, recreating, disseminating, branding, and networking as you can involve students directly in the adaptation of the resource as part of their learning.
Jtneill – Own work – Ways in which open education can facilitate flexible learning. CC BY-SA 3.0
OER's supporting strategic goals on campus.
Use of OER's can also tie your teaching into the strategic goals on campus. These resources can be Indigenized, to advance Indigenous achievement. Indigenization is a process of incorporating Indigenous perspectives, processes and knowledge systems. It must be noted that Indigenization does not mean replacing Western knowledge or changing it, rather the goal is to braid together Western and Indigenous knowledge so teachers and learners can appreciate both. OER's can be freely adapted for valuable inclusion of Indigenous knowledge systems and perspectives. For more guidance on Indigenizing resources view this post from Campus MB which has some OER content to get you started. Further to the strategic goals OER's can incorporate digital tools to help evaluate student success. They foster sustainable growth by encouraging digital learning materials, and curb the increasing cost of instructional materials. They can be used to cultivate strategic partnerships as you can invite alumni and industry partners to contribute to adapting OER's. Get started investigating OER's today with the RRC Library and Campus MB, and look for more OER sessions in Fall 2020.