Truth and Reconciliation at Library and Academic Services 
Library and Academic Services is committed to advancing Truth and Reconciliation through awareness, understanding and education. We strive to actively respond to the Truth and Reconciliation Commission of Canada's Calls to Action and to integrate this dedication in our work, policies, and engagements. In recognition of our ongoing commitment, we've compiled a selection of our work towards these priorities as an active report on our progress.  
Our work, along with featured Guides and books from our collections, is now shared on a new webpage at library.rrc.ca/TruthandReconciliation. This page serves as an active report as our commitments are ongoing and continue to develop with time and knowledge.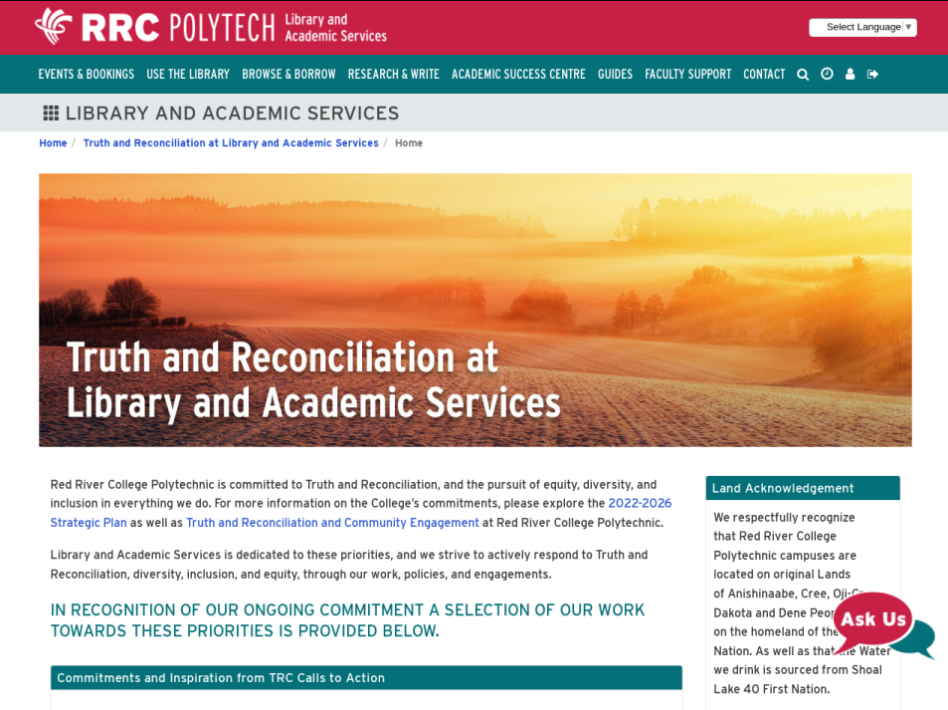 We do not share this information to celebrate ourselves, but to bring awareness to considerations made thus far and to create accountability for what more we can do. Committing to advancing Truth and Reconciliation is an ongoing dedication and we encourage recommendations in how we can further advance understanding and engagement in our programs and services. 
As for the ''legwork' required to compile the collective work from the four units that comprise Library and Academic Services, it was a shared effort. And in this I do celebrate the participation and assistance of everyone involved. It is difficult to take inventory of our actions and thoughts, and to explicitly classify each gesture that was made with diversity and equality in mind. 
For more information on the College's commitments, please explore the 2022-2026 Strategic Plan as well as the Truth and Reconciliation and Community Engagement.  

Written by Sarah Lee – Library Technician, Library Resource Management