Library Equipment Booking is Online!
RRC Polytech staff and students can now enjoy hassle-free scheduling with the library's new online equipment booking system.
Find out everything you need to know about the new booking system so you can plan ahead, and be front of the line for fall bookings!
What's available?
There are many equipment categories to browse and book online:
Where to go on Library.rrc.ca to book equipment?
You can navigate to the equipment booking system from the library homepage, either by selecting Book Equipment from the icon bar on the homepage, or find it under browse and borrow from on the homepage top menu.
---

OR

---
Where to pick up a booking?
The RRC Polytech Library has two locations, one at the Notre Dame Campus in CM18, and another at the Exchange District Campus in room P214. Our two libraries have different equipment collections, so make sure you select the location you'll be picking up from, before browsing and setting up bookings.

Add upcoming bookings to your outlook calendar
When you create a booking, you will receive a "Your booking has been confirmed" email with an .ics calendar file. Open the attachment and add the booking to your calendar.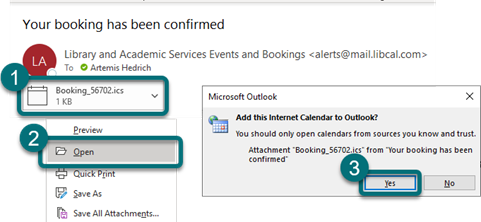 Make sure to add alerts@mail.libcal.com to your safe senders list so you don't miss any important updates or reminders about your bookings!
Cancel or Change an upcoming booking
Created a booking you no longer need? Need that equipment for a different time? You can cancel an upcoming booking anytime through the link included in your booking confirmation and reminder emails.
To change a booking, simply reply to your booking confirmation or reminder email and let us know the change, you'll get an automatic email notification confirming when the changes have been made.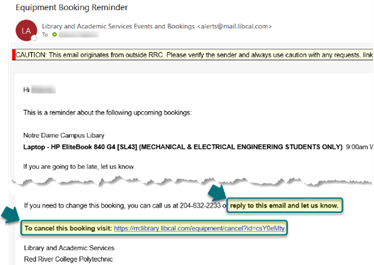 Find out more!
Need some help figuring out how to book equipment? Find out everything you need to know on the book equipment help page.
Curious about the student laptop loan program? Check out the laptop loans terms of use.
Find all the loan periods for equipment on the loan period information page.
Connect with Us!
More information about our services and supports is available on our website. You may also connect with us through Ask Us chat, our Ask a Question form, or visit one of our service desks during regular Library hours.
Written by Artemis Hedrich – Reference Technician