Campus Renewal is exploring a new space!

Acoustic noise-reducing pod provides quiet haven in open offices and common spaces. Demo available for a limited time in the NDC Library!
An adaptable, modular pod
As we prepare to come back to campus and are looking to navigate blended learning and the continuation of connecting virtually, both instructors and support staff are looking to complement their spaces with areas for private meetings and concentrated, independent work.
An adaptable modular "pod" provides a quiet, private, and comfortable meeting space in the office. Spaces like these can offer options for private meetings or video conferencing, webinars, heads down work, private phone calls or a place to meet with students. The "pods" can come in many sizes with different options to suit the function you are looking for. Campus Renewal is exploring the Hush Hybrid and the Hush Meet options. The demo we have on site is a smaller version of this the Hush Phone.  
We want your opinion!
For a limited time only, a demo pod will be available in the Notre Dame Campus Library. Campus Renewal is exploring this new Space Type and wants to hear from you! Come visit and tell us what you think.
If you have questions, or, you and your team would like to arrange a meeting to see and discuss the booth, feel free to reach out to Lisa Kirton. The demo can also be viewed at your own convenience during Library hours.
More News! Newly Sprung this Spring at the Notre Dame Campus: "In-Between Spaces"
Campus Renewal recently installed two "In-Between Spaces," which provide a welcoming space for students to hang out, do some work, and charge their devices (power coming to the spaces soon!).
These modern spaces add aesthetic appeal yet is also functional in providing students with a comfortable space to relax and "recharge." These new spaces are located in the Mall Level at the bottom of the bus loop and in the J Building at the Notre Dame Campus.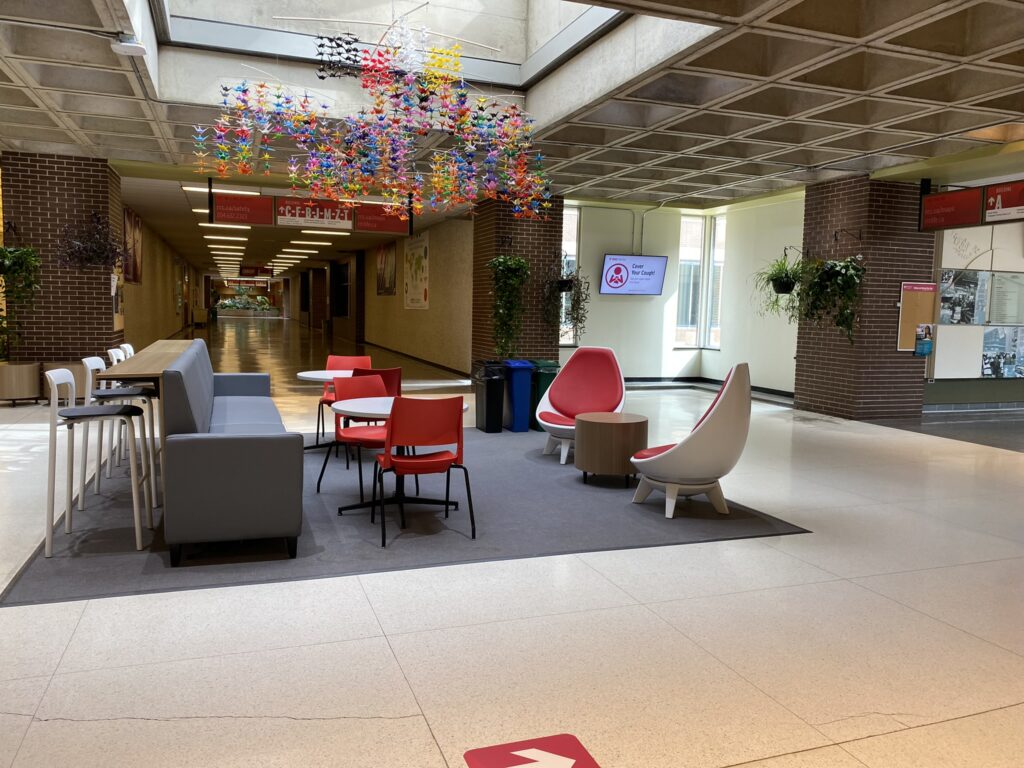 Written by Linda Fox (Library and Academic Services) and Lisa Kirton (Campus Renewal)