Get More Nursing Reference Center with Plus
Nursing Reference Center Plus isn't your typical reference database. Instead, it is an evidence-based, point-of-care information resource. Unlike UpToDate, it is designed specifically for nurses.
Nursing Reference Center Plus has many unique features. For example, you can use NRC+ to:
Access Evidence-Based Care sheets, Care Plans and Quick Lessons on diseases and conditions
Read clinical papers and access competency checklists on skills and procedures
Find Cultural Competency documents that cover key considerations in providing culturally competent care to specific groups
Search two trusted drug collections simultaneously for monographs and drug-related topics
Catch up on the latest in essential nursing leadership and management topics such as assessing competencies, developing leadership skills and succession planning, fostering employees, organizational change, Interprofessionalism and more
Learn more with interactive learning continuing education (CE) modules
Access research instruments and scales
Quickly refer to thousands of eBooks
Access printable, easy-to-read patient education handouts
Find images of conditions
Watch skills videos that demonstrate procedures
Access NRC+ on the go with the mobile app
Did you think we already had all of that? Not quite.
The Library recently upgraded its Nursing Reference Center databases subscription to Plus. So, why is this a big deal? Here are a few of the advantages of Plus:
| Nursing Reference Centre | NRC | NRC+ |
| --- | --- | --- |
| Care Plans | 0 | 57 |
| Core Measure Topics | 0 | 59 |
| Cultural Competency Topics | 110 | 270 |
| Images | 140 | 1,300 |
| Leadership & Management CE Topics | 23 | 230 |
| Management Topics | 70 | 440 |
| Mobile App | NO | YES |
| Nursing Skills & Procedures and Competency Checklists | 2,300 | 4,900 |
| Patient Education Handouts | 3,300 | 8,900 |
| Regulatory Topics | 0 | 290 |
| Risk Management Topics | 80 | 220 |
| Videos | 0 | 757 |
"Sounds awesome; how do I learn more," you ask? Let me show you!
Library Guide
The Nursing Reference Center Plus Guide(https://library.rrc.ca/NRC-PLUS) is chock-full of screenshots and clear instructions to guide you through everything you need to know to master using this database.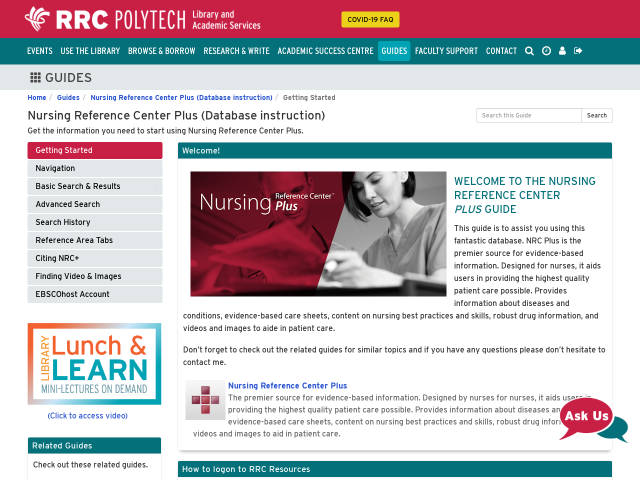 Would you prefer to watch a 30-minute lecture?
Lunch & Learn Live Webinars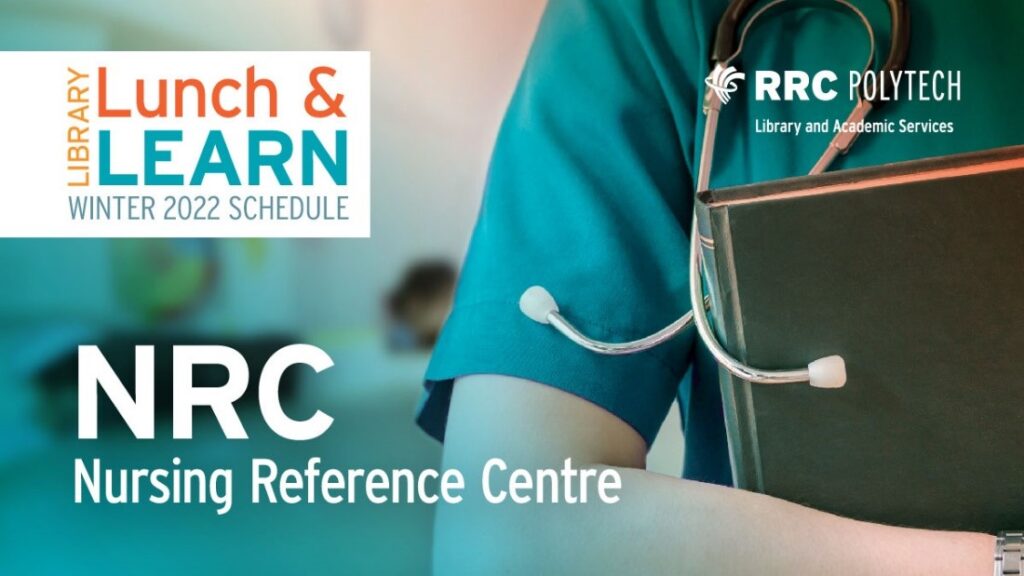 Join us for our next Nursing Reference Centre PLUS (database) webinar in May 2022 to see the database in action. We will spend 30 minutes exploring the different facets of what makes this database unique, and you will have the opportunity to ask questions.
Registration and more information
Can't wait until May?
Recorded Lunch & Learn Webinars
Our recorded webinars give you the best of both worlds with an accessible recorded video format on demand. In addition, the closed-captioned recording is only 19 minutes long.
We have also included the PowerPoint for the webinar for your convenience.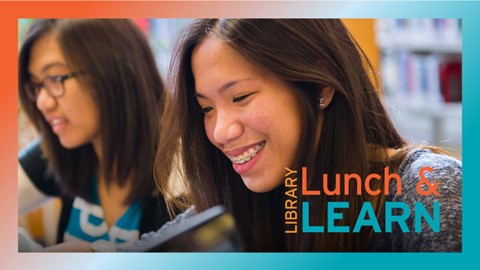 Still have questions?
Send me a message, I would be happy to answer your questions or set up a one-on-one tutorial.
(Instructors, feel free to link to any of these resources in your LEARN content.)
Related Guides and Library Lunch & Learn
For more information, please contact Rosemary Woodby, Reference Technician