Six ways your Library is here to help you succeed
There has never been a better time to start using your Library!  With a variety of useful resources and services offered at both the Notre Dame and Exchange District Campuses, as well as through our website, your Library is here to help you succeed!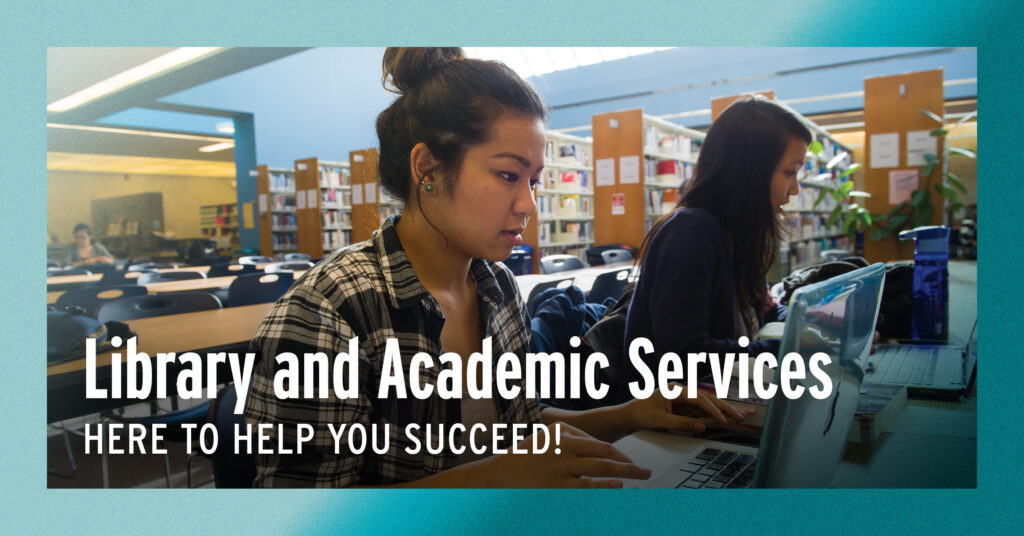 1. USE THE LIBRARY
Coming to the library is as easy as walking through the door! Once inside, you are free to browse the collection of print materials, use our computers for printing, ask questions, or simply find a space to study and work on assignments.
We strive to make the Library an inclusive, welcoming, and safe space, where you can feel comfortable working toward your academic goals! So, come in, say "hello" to our friendly staff, and start using the space today. We'll be happy to see you! 
Learn more >> Use the Library
2. ASK QUESTIONS
If you have a question, we encourage you to ask the Library staff for help! You can do this by approaching the service desk and asking them directly, or you can also ask a question through our Ask Us Chat.
To use the chat, simply click on the Ask Us Bubble on the Library website. This will connect you with our Library chatbot, which uses self-led prompts to answer a variety of common questions. If you have a more detailed question, you can also choose the option to connect with a Library staff member over live chat, and they will be happy to help!
Learn more >> Library and Academic Services website
3. GET ASSIGNMENT HELP
If you are starting an assignment and need help finding research on a particular topic, or if you just want to learn how to search more effectively on your own, Library staff can help with that!
They will go step-by-step through the search process with you, ensuring you find the best resources to satisfy the requirements of your assignment. On top of that, they will also help you to improve your search skills for future assignments by showing you how to search more effectively.
Learn more >> Research & Write
4. BOOK A TUTOR
If you are struggling with a particular course, or if you just want to learn the skills needed to be a better student, the Academic Success Centre (ASC) is a great resource within the Library to check out!
The ASC offers tutoring services for a variety of courses and topics, as well as drop-in workshops and exam prep sessions! You can sign up for tutoring online, or you can come in and speak with a tutor who will help you find the tutoring solution for your particular needs! 
Learn more >> Tutoring Services
5. BROWSE THE COLLECTION
If you would like to borrow something from our collection, there are a couple of ways to go about it. You can browse the shelves on your own, or, if you are looking for something specific, you can search online through our website. Searching through OneSearch, or through a specific database, allows you to filter your search results according to a variety of parameters, ensuring you find the best and most relevant resources available!
In addition to an extensive and varied collection of print resources — which includes books, magazines, and DVDs — students have free online access to thousands of electronic resources, such as ebooks, academic journal articles, and industry manuals. 
Learn more >> Browse & Borrow
6. BORROW EQUIPMENT
Finally, we also lend out equipment at both Library locations! This includes everything from phone chargers and various types of cables and adaptors to larger equipment such as cameras and tripods, speakers, microphones, projectors, and even laptops!
In the modern college, a laptop is an essential piece of equipment to own. However, if you are waiting for your laptop to be repaired or for funding to come in for you to purchase a new one, the Library can help you get through that time! We lend out laptops for up to a month. To see the complete inventory of equipment items and their availability, check out the website!
Learn more >> Equipment
Written by Dylan MacDougall, Reference Technician – Library and Academic Services