Supports for Faculty and Staff from Library and Academic Services
Planning for Fall? It's a Great Time to Incorporate Our Supports
Spring is often the time to update course content and plan for fall, and it's also a great time to incorporate supports offered by Library and Academic Services. In this article, we highlight popular ways we can help you and your students succeed at RRC Polytech. For future reference, we encourage you to bookmark our Faculty Support page which contains links to the complete range of services and supports we offer.
In-Class Workshops
The Academic Success Centre and Library offer online in-class workshops for student cohorts at the request of faculty. Our suite of workshops includes Academic Skills, Writing Skills, Technology Literacy Skills, Library Instruction, and Copyright.
To request an in-class workshop, please click the links below:
Hybrid LEARNing Modules
The Academic Success Centre and Library have developed a suite of Hybrid LEARNing Modules. The purpose of these modules is to offer learning strategies and resources that faculty can share with their students to further develop foundational skills for success in their studies. The modules feature self-directed tutorials in LEARN and facilitated live sessions via Webex (or MS Teams).

To request a Hybrid LEARNing Module or book a facilitated live session, please fill out this Request Form.
Academic Success Centre
While the ASC is primarily a student service unit, our staff have found that partnerships with faculty are the best way to support students. Partnerships can take many forms, including customized and embedded academic supports in programs, in-class workshops, diagnostic assessments, and the sharing of our learning resources.
To learn more, visit the Academic Success Centre's Supports for Faculty and Staff page.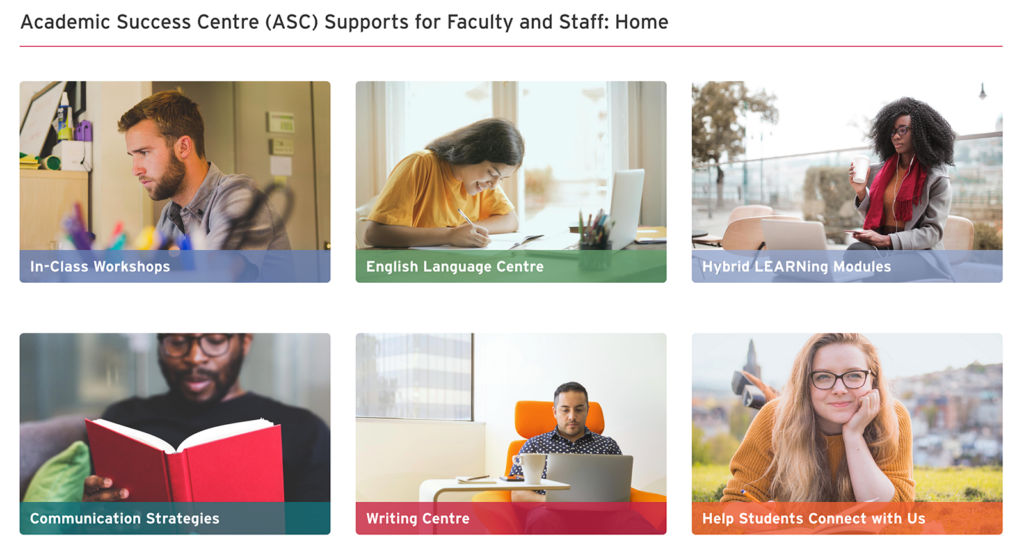 Library Collections and Related Services
Suggest a Purchase
The primary purpose of the Library's collections is to support learning, instruction and research at RRC Polytech. If you have suggestions for a new title or resource to add to our collection, you may fill out the Suggest a Purchase form. Our subject specialists are available to discuss subject area gaps in the collection as well as Open Educational Resources (OER) options with you. 
Guides
The Library's Guides are curated lists of resources on specialized topics. We can help you find which guides are most relevant for your students or work with you to develop a new Guide to meet your needs. The benefits of Guides are far-reaching for both students and instructors. Below are a few success stories resulting from instructors utilizing Guides.
Guide Success Stories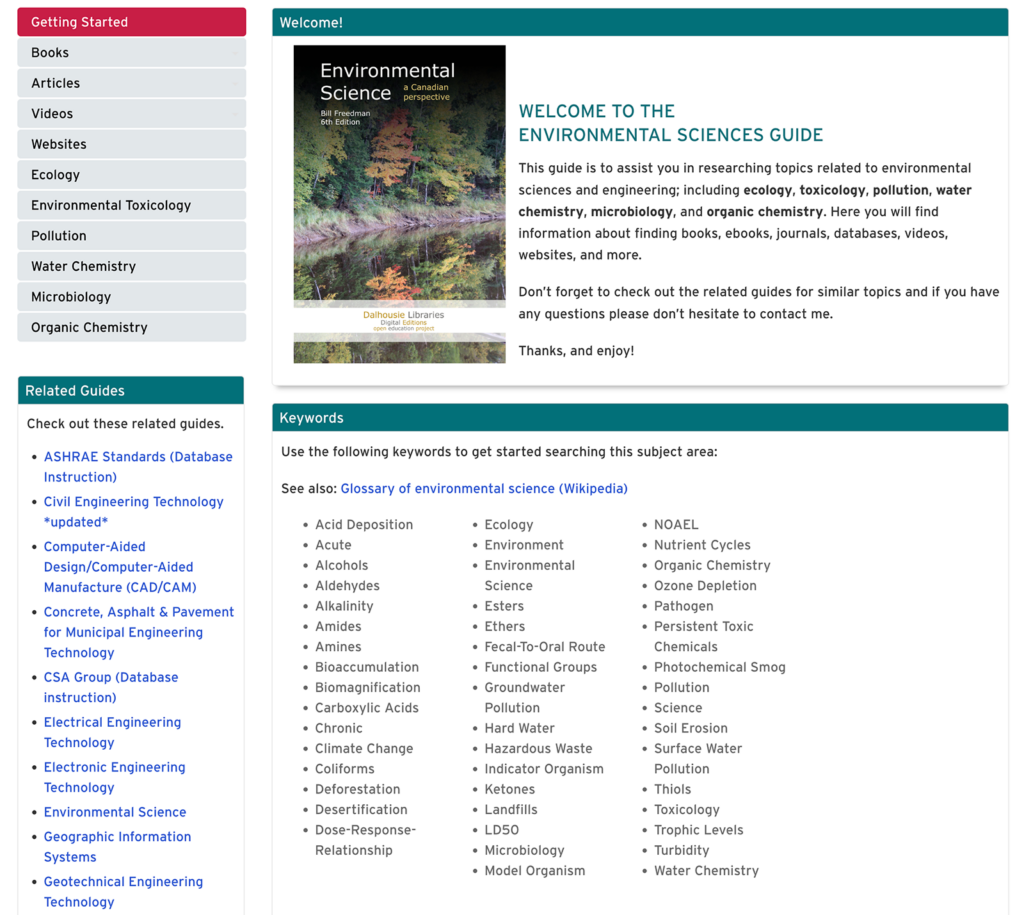 Research and Reference Services
Also, you may be looking for information, either for your own research needs, course development, or course readings. Library staff are skilled at locating and referencing information, and it would be a pleasure to assist with that. To connect with a Library staff member, visit us in person or through our Ask Us chat during regular Library hours.
Copyright
Copyright plays an important role when instructors are building content and creating course materials. Our P7 Policy provides guidance around copying but there is also a suite of library-directed copyright services to support and assist faculty in navigating copyright.
The Library's Copyright Officer supports faculty with the following services: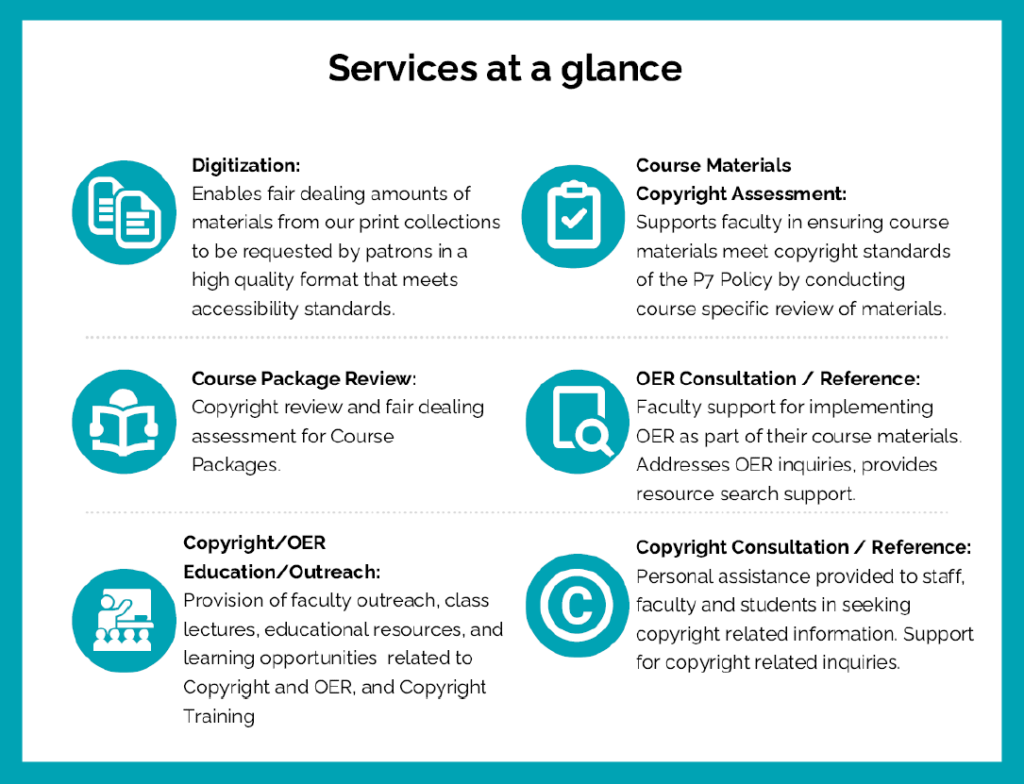 You can:
Connect with Us!
More information about our services and supports is available on our website. You may also connect with us through Ask Us chat, our Ask a Question form, or visit one of our service desks during regular Library hours.
Written by Ebony Novakowski, Linda Fox, and Melissa Coyle – Library and Academic Services