Students write haikus to connect a 1000-crane mobile with course content
The following poems were submitted by students in the Summer 2021 EA Program Intake following the completion of a group project — a mobile made of 1000 paper cranes.
When the 1000-crane mobile was completed, the class met Elder Una Swan for a second pipe ceremony to bring the project to a close. The first pipe ceremony occurred 14 weeks earlier with Miss Una blessing the project.
Each student wrote a haiku as part of the ELA Content & Practice course. Writing the poems helped them connect the project experience with a learning outcome from the course. As students gazed at their origami mobile of 1000 cranes, they were inspired to write the following words:
Origami fused with project-based learning
Paul Bourget, who designed this project, explains:
The goal of the origami project is to show the possibilities of actively involving students in an art form that links the principles of Reconciliation and understanding of the EA program course concepts such as math, ELA.

–Paul Bourget, instructor
The 1000-crane mobile: significance of colours
The colours of the 1000-crane mobile (pictured below) are thoughtfully chosen, incorporating the 4 directions of Traditional Teachings (red, black, yellow, white in top layer) and "Every Child Matters" (orange in bottom layer), as well as diversity of peoples joined in harmony (multiple colours in middle layer).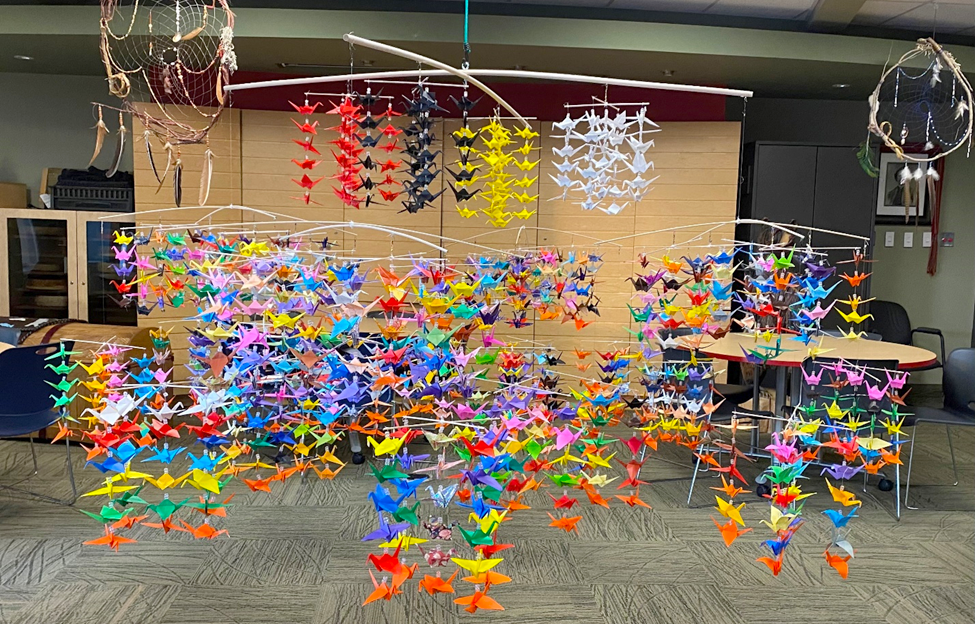 An act to follow
Many thanks to Paul Bourget for sharing this project, and inspiring the RRC Polytech community to be innovative in incorporating Truth and Reconciliation and the Calls to Action into our work at the College. Learn more about Paul Bourget's work here: Truth and Reconciliation Faculty Star: Paul Bourget.
Written by Paul Bourget, EA instructor; edited by Linda Fox — Library Technician, Program Support and Promotion; poems by students in the Educational Assistant program (summer 2021 intake)