With the upcoming Winter Break, hopefully we can all have some downtime to relax! If the weather cooperates, we can enjoy some fresh air activities like walking, skating, or skiing. Once back inside, curling up with a good book and a hot drink will warm us up!
RRC Polytech Library has many great choices of award-winning books (and short-list finalists) in our collection. Here is just a sampling of some of those titles.
Washington Black by Esi Edugyan
Winner of the Scotiabank Giller Prize for fiction, 2018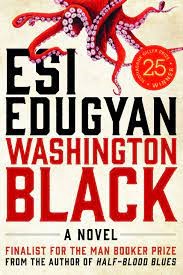 When two English brothers arrive at a Barbados sugar plantation, they bring with them a darkness beyond what the slaves have already known. Washington Black – an eleven year-old field slave – is horrified to find himself chosen to live in the quarters of one of these men. But the man is not as Washington expects him to be. His new master is the eccentric Christopher Wilde – naturalist, explorer, inventor and abolitionist – whose obsession to perfect a winged flying machine disturbs all who know him. Washington is initiated into a world of wonder: a world where the night sea is set alight with fields of jellyfish, where a simple cloth canopy can propel a man across the sky, where even a boy born in chains may embrace a life of dignity and meaning – and where two people, separated by an impossible divide, can begin to see each other as human.
How to Pronounce Knife: Stories by Souvankham Thammavongsa
Winner of the Scotiabank Giller Prize for fiction, 2020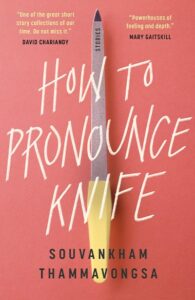 How to Pronounce Knife is a stunning collection of stories that portray the immigrant experience in achingly beautiful prose. The emotional expanse chronicled in this collection is truly remarkable. These stories are vessels of hope, of hurt, of rejection, of loss and of finding one's footing in a new and strange land. Thammavongsa's fiction cuts to the core of the immigrant reality like a knife—however you pronounce it.
The Glass Hotel by Emily St. John Mandel
Shortlisted for the Scotiabank Giller Prize, 2020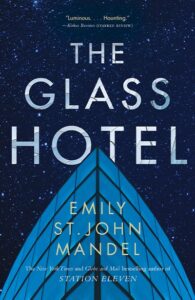 From the award-winning author of Station Eleven, a captivating novel of money, beauty, white-collar crime, ghosts and moral compromise in which a woman disappears from a container ship off the coast of Mauritania and a massive Ponzi scheme implodes in New York, dragging countless fortunes with it. Vincent is a bartender at the Hotel Caiette, a five-star glass-and-cedar palace on the northernmost tip of Vancouver Island. New York financier Jonathan Alkaitis owns the hotel. When he passes Vincent his card with a tip, it's the beginning of their life together. That same day, a hooded figure scrawls a note on the windowed wall of the hotel: "Why don't you swallow broken glass." Leon Prevant, a shipping executive for a company called Neptune-Avramidis, sees the note from the hotel bar and is shaken to his core. Thirteen years later, Vincent mysteriously disappears from the deck of a Neptune-Avramidis ship. Weaving together the lives of these characters, The Glass Hotel moves between the ship, the skyscrapers of Manhattan and the wilderness of remote British Columbia, painting a breathtaking picture of greed and guilt, fantasy and delusion, art and the ghosts of our pasts.
Son of a Trickster by Eden Robinson
Shortlisted for the Scotiabank Giller Prize 2017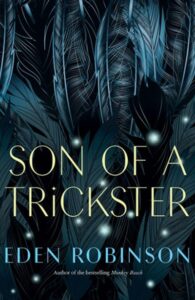 Everyone knows a guy like Jared: the burnout kid in high school who sells weed cookies and has a scary mom who's often wasted and wielding some kind of weapon. Jared does smoke and drink too much, and he does make the best cookies in town, and his mom is a mess, but he's also a kid who has an immense capacity for compassion and an impulse to watch over people more than twice his age, and he can't rely on anyone for consistent love and support, except for his flatulent pit bull, Baby Killer (he calls her Baby)–and now she's dead. Jared can't count on his mom to stay sober and stick around to take care of him. He can't rely on his dad to pay the bills and support his new wife and step-daughter. Jared is only sixteen but feels like he is the one who must stabilize his family's life, even look out for his elderly neighbours. But he struggles to keep everything afloat … and sometimes he blacks out. And he puzzles over why his maternal grandmother has never liked him, why she says he's the son of a trickster, that he isn't human. Mind you, ravens speak to him–even when he's not stoned. You think you know Jared, but you don't.
From the Ashes: my story of being Métis, Homeless, and Finding My Way
by Jesse Thistle
Indigenous Voices Award winner, 2020
Canada Reads contender, 2020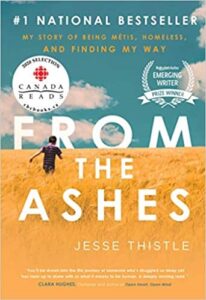 From the Ashes is a remarkable memoir about hope and resilience, and a revelatory look into the life of a Métis-Cree man who refused to give up. Abandoned by his parents as a toddler, Jesse Thistle briefly found himself in the foster-care system with his two brothers, cut off from all they had known. Eventually the children landed in the home of their paternal grandparents, but their tough-love attitudes meant conflicts became commonplace. And the ghost of Jesse's drug-addicted father haunted the halls of the house and the memories of every family member. Struggling, Jesse succumbed to a self-destructive cycle of drug and alcohol addiction and petty crime, spending more than a decade on and off the streets, often homeless. One day, he finally realized he would die unless he turned his life around. In this heartwarming and heartbreaking memoir, Jesse Thistle writes honestly and fearlessly about his painful experiences with abuse, uncovering the truth about his parents, and how he found his way back into the circle of his Indigenous culture and family through education. An eloquent exploration of what it means to live in a world surrounded by prejudice and racism and to be cast adrift, From the Ashes is, in the end, about how love and support can help one find happiness despite the odds.
Injichaag : My Soul in Story : Anishinaabe Poetics in Art and Words by Rene Meshake (ebook)
Winner of Indigenous Voices Award for Works in an Indigenous Language, 2020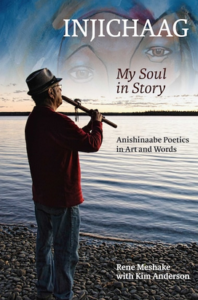 This book shares the life story of Anishinaabe artist Rene Meshake in stories, poetry, and Anishinaabemowin "word bundles" that serve as a dictionary of Ojibwe poetics. Meshake was born in the railway town of Nakina in northwestern Ontario in 1948, and spent his early years living off-reserve with his grandmother in a matriarchal land-based community he calls Pagwashing. He was raised through his grandmother's "bush university," periodically attending Indian day school, but at the age of ten Rene was scooped into the Indian residential school system, where he suffered sexual abuse as well as the loss of language and connection to family and community. This residential school experience was lifechanging, as it suffocated his artistic expression and resulted in decades of struggle and healing. Now in his twenty-eighth year of sobriety, Rene is a successful multidisciplinary artist, musician and writer. Meshake's artistic vision and poetic lens provide a unique telling of a story of colonization and recovery. The material is organized thematically around a series of Meshake's paintings. It is framed by Kim Anderson, Rene's Odaanisan (adopted daughter), a scholar of oral history who has worked with Meshake for two decades. Full of teachings that give a glimpse of traditional Anishinaabek lifeways and worldviews, Injichaag: My Soul in Story is "more than a memoir."
Five Wives: a novel by Joan Thomas
Winner of the Governor General's Literary Award for English Language Fiction, 2019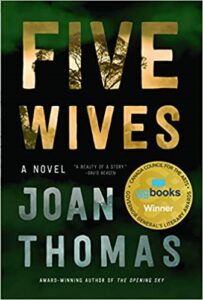 In 1956, a small group of evangelical Christian missionaries and their families journeyed to the rainforest in Ecuador intending to convert the Waorani, a people who had never had contact with the outside world. The plan was known as Operation Auca. After spending days dropping gifts from an aircraft, the five men in the party rashly entered the "intangible zone." They were all killed, leaving their wives and children to fend for themselves.
Five Wives is the fictionalized account of the real-life women who were left behind, and their struggles – with grief, with doubt, and with each other – as they continued to pursue their evangelical mission in the face of the explosion of fame that followed their husbands' deaths.
Five Wives is a riveting, often wrenching story of evangelism and its legacy, teeming with atmosphere and compelling characters and rich in emotional impact.
When We Were Alone by David Robertson, illustrated by Julie Flett
Winner of Governor General's Literary Award, Young People's Literature (Illustrated Books), 2017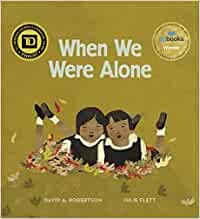 When a young girl helps tend to her grandmother's garden, she begins to notice things that make her curious. Why does her grandmother have long, braided hair and beautifully colored clothing? Why does she speak another language and spend so much time with her family? As she asks her grandmother about these things, she is told about life in a residential school a long time ago, where all of these things were taken away. When We Were Alone is a story about a difficult time in history, and, ultimately, one of empowerment and strength.