Applied learning in action: ACE Project Space students work to innovate visual care
Our eyes are the primary way we see the world and navigate daily life. They also are an important means to diagnosing unseen neurological changes, due to injury (concussion), stroke, or other neurological disorders.
Students from RRC Polytech's ACE Project Space are at the cutting-edge of innovative technology development with researchers at Neuroptek, a new start-up headed by Drs. Neda Anssari and Behzad Mansouri.
"The Neuroptek project has been the backbone of my entire program," said Navdeep Kaur Sran, student team lead. "It has given me firsthand experience at how to integrate and apply all the skills I've learned throughout my courses."
The researchers' vision was sparked by their experiences delivering eye exams to children in rural areas of Ontario several years ago. Anssari is a neurologist and concussion subspecialist, Mansouri is a neuro-ophthalmologist and neuroscientist.
"The team had to pack up equipment and travel for hours in order for us to get to the remote area," said Anssari. "It's very difficult to reach some remote areas with all the equipment. Add to that the Canadian winter weather challenges, we saw the need for a more sustainable solution."
Anssari expanded on the importance of access for children. Refractive errors are very common in children and play a significant role in their literacy, especially in preschool ages, kindergarten and elementary levels.
Their new technology is called EyeMirage. It realizes their vision to put eye care in the hands of the public, making it available virtually via an easily downloadable app. Additional versions of the app are available for use in clinical settings and by elite athletes and training programs.
"I've been working in the field of concussion for a few years now. The major challenge that I see happening in our day-to-day practice is that we do not have a readily available objective measure to diagnose concussion and early diagnosis is important," said Anssari.
RRC Polytech students were on the ground floor over the course of two terms, working with the two researchers and Samantha Phrakonkham, Project Manager for Neuroptek.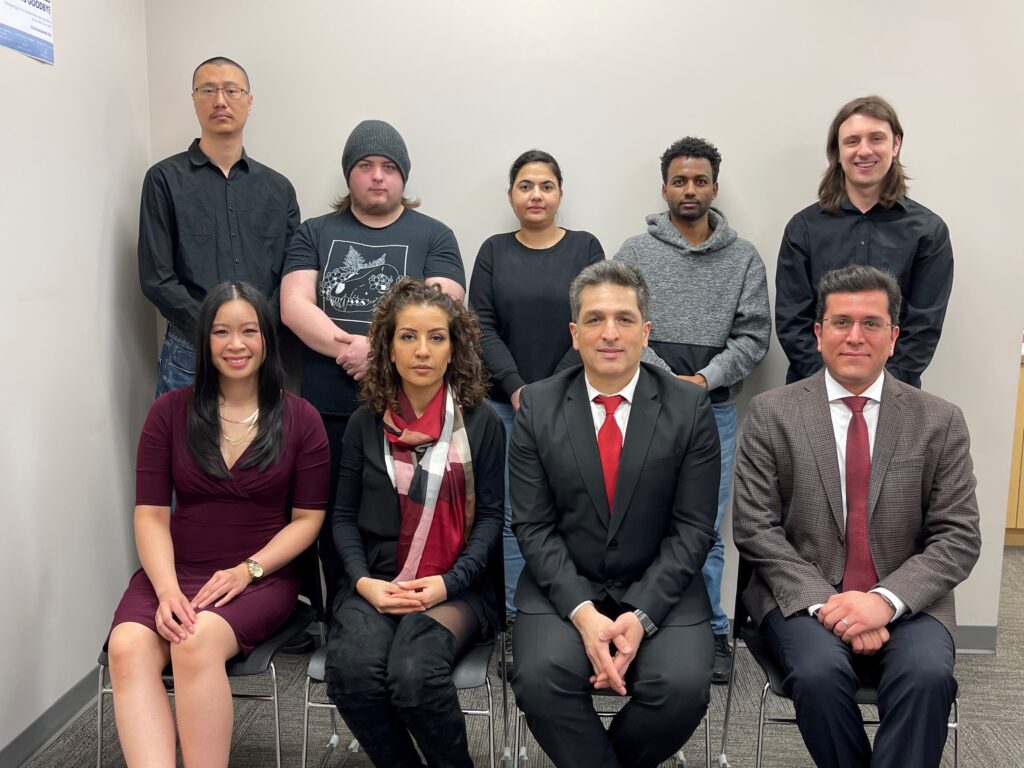 "Working with the RRC Polytech students has been very exciting and rewarding," said Phrakonkham.
Initially, in spring and summer 2021, the first team of five students were tasked with developing an app to perform eye examinations.
"This wasn't an easy task, given that none of the students had any mobile application development experience, which means they had to build this app from scratch. An experience that the majority of students that graduate from a postsecondary program would not have."
For the fall 2021 term, a new four-student team have focussed on refining those eye examination tests to ensure that they meet the criteria for Clinical Standards.
"Currently, the students are making headway, but they do have a long road ahead of them, since most of the work is to improve the functionality of the app," added Phrakonkham. "The most noticeable difference between this term and the last is our focus on quality control and engineering practices, in order to better prepare the students for the workforce."
This synergistic partnership with RRC Polytech brings Neuroptek closer to their mission, while providing valuable industry experience for the students.
Phrakonkham noted, "Students have hands-on experiences with processes and tools they are likely to encounter in industry. They have had to move out of their comfort zone, adapt to the changes that might arise and take on duties that are not part of their existing skill set."
Their days are structured to reflect the standard workflow of industry, like daily stand ups, road mapping, sprints, one-on-ones and brainstorming sessions.
"They gain practical experience using common tools, adopting common practices in the use of those tools, while providing them an agile work environment similar to agile software development processes in the industries they will seek employment with, post-graduation."