Today, during Global Entrepreneurship Week, Prairies Economic Development Canada (PrairiesCan), announced a more than $22.7 million investment to support innovation and growth in Manitoba. This funding was awarded to 16 projects across the province, including RRC Polytech's Advanced Composites Development Centre (ACDC), operated by the Technology Access Centre for Aerospace and Manufacturing (TACAM).
This investment is great news for expanding the frontiers of applied research and workforce development in Manitoba. It's also a prime example of government, academia, and industry working together to strengthen our province.
"Our investment today will support both Manitoba's economy and business, helping to continue to make Manitoba a great place to invest, do business, and create good jobs people can count on. Our partnership with Manitoba businesses will help them in acquiring the tools, capital, and support they need to thrive as significant contributors to the Prairie and Canadian economies," said The Honourable Dan Vandal, Minister for PrairiesCan.
Alongside PrairiesCan's investment, National Research Council Canada, Magellan Aerospace, and Convergent Manufacturing Technologies have put a combined $1.5 million contribution to expanding the Advanced Composites Development Centre.
The funding will enable RRC Polytech to expand our capabilities in advanced composite manufacturing using robotics, automation, and data analytics. This collaboration will also help to industrialize emerging composite manufacturing technologies, improve our knowledge base, open doors for new business opportunities for the private sector, and develop a much-needed workforce in advanced manufacturing and aerospace.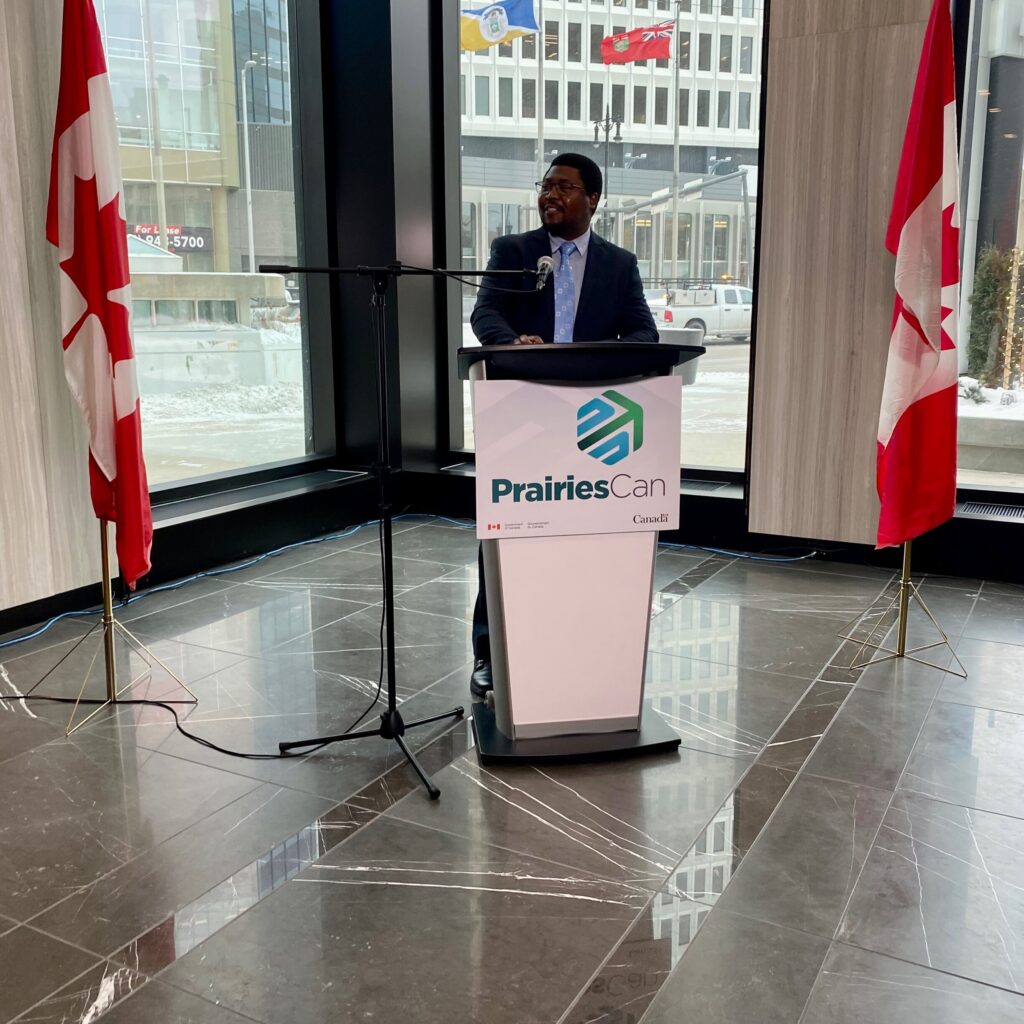 "The investment in the Advanced Composites Development Centre will help us do many things – build capacity for technology transfer with industry partners, specifically small- and medium-size enterprises who do not have resources for in-house research and development; teach advanced manufacturing skills to learners, using new and emerging technologies; and overall create new jobs and attract more investments in Manitoba," said Dr. Dele Ola, Director, TACAM.
Our province is a prairie powerhouse for manufacturing and aerospace. Together, through the strength of this collaboration of public and private organizations, we can continue to maintain Manitoba's position as an international hub for manufacturing.
Learn more about RRC Polytech's Technology Access Centre for Aerospace and Manufacturing at rrc.ca/tacam
Feature photo: L-R – Rick Penner, President, Emerge Knowledge; Jen Peters, Co-Founder, Emerge Knowledge; Louie Ghiz, Executive Director, New Media Manitoba; The Honourable Dan Vandal; DeleOla, Director, Director of the Technology Access Centre for Aerospace and Manufacturing, Red River College Polytechnic