Student Engagement
With the Prairie Research Kitchen, Red River College Polytechnic's culinary students can access training opportunities in culinary research which can lead to careers in product development and entrepreneurship, as well as hone your skills in the kitchen.
Benefits of Becoming a Prairie Research Kitchen Student-Researcher
Find out all the benefits of becoming a student-researcher at Prairie Research Kitchen. Contact us to to learn more about our student placements.
Explore and work with new and innovative food ingredients and modern equipment and processing
Work with a blended team of food scientists and chefs
Access modern equipment and technology
Network with industry partners and Prairie Research Kitchen clients
Expand your career opportunities
Students in the Spotlight
Learn more about what RRC Polytech students are working on at Prairie Research Kitchen.
Pea Tempeh/Applied Research and Innovation Day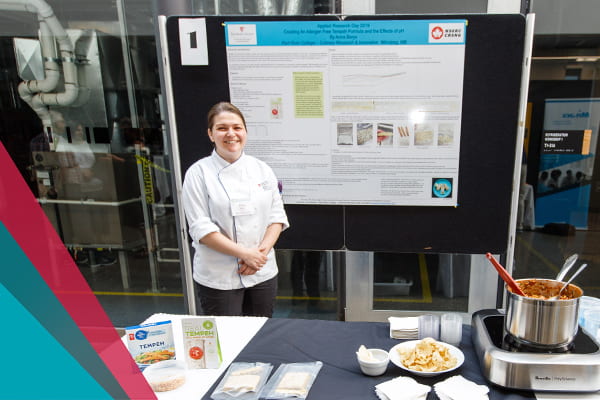 Co-op student Anna Borys developed a soy-free pea tempeh using a prairie staple, yellow split peas. With the guidance of the PRK professionals, this research project was then entered into Red River College Polytechnic's Applied Research & Innovation (ARI) Day, competing with several other applied research projects from varying faculties throughout the college. Anna went on to win 2nd place along with a cash prize, was featured on CBC radio as well as an article on CBC Manitoba.
Project in the media: CBC and RRC Polytech Blog
Winnipeg Harvest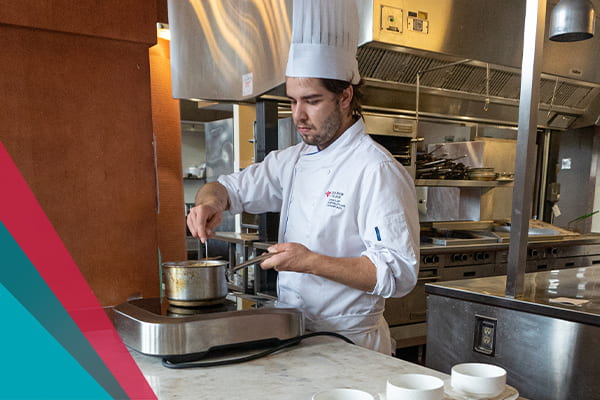 Co-op students worked in partnership with Winnipeg Harvest to create dried soup mixes by dehydrating surplus vegetables from suppliers who were not able to use them during the COVID-19 pandemic. Together, the students packaged 3,000 packaged soups to provide healthy, protein-packed meals for those negatively affected by the pandemic. This included recipe development, food processing and packaging, data tracking, but ultimately, teamwork!
Project in the media: CTV and RRC Polytech Blog
Ag Awareness Day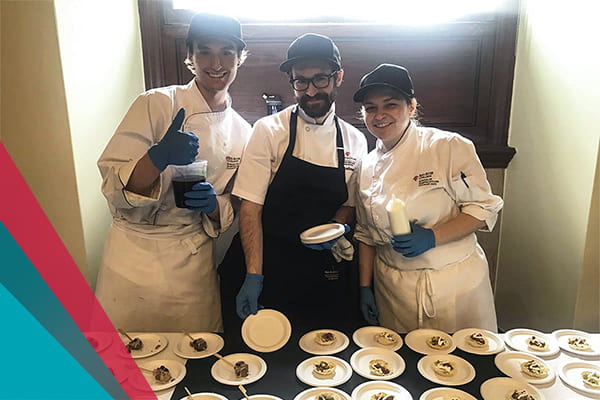 The province of Manitoba celebrates Agriculture Awareness Day, with a focus on innovations in proteins. Each year two RRC Polytech students participate in a competition showcasing innovation in two pre-selected proteins. Former student researchers Anna Borys and Peter Matkowski put their heads together in creating two appetizer dishes using yellow peas and bison.
Project in the media: RRC Polytech Blog
Beans…to salt or not to salt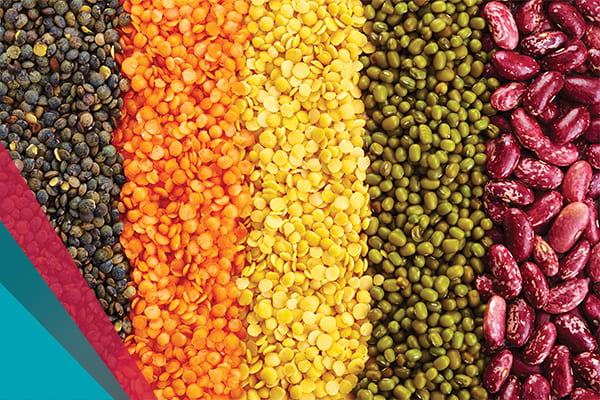 Co-op students worked on a project funded by the Manitoba Pulse and Soy Growers to debunk the proper cooking techniques of the humble bean. It was determined that best bean cooking practices included an overnight salt brining step which improves in the final cooking process to achieve a creamy yet intact bean.
Project in the media: RRC Polytech Blog
BUMP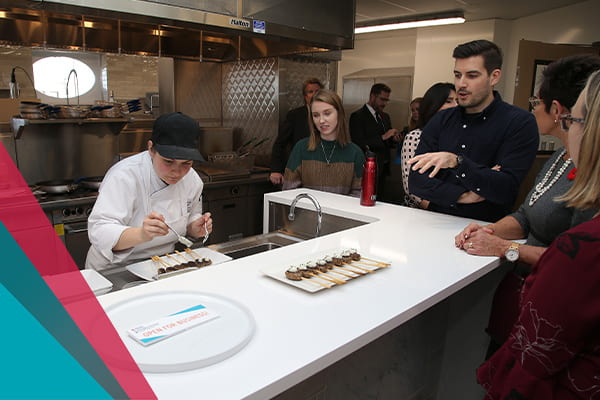 Prairie Research Kitchen teamed up with local entrepreneur James Battershill of Juno Food Labs in the creation of Bump Beef + Plant Blend, an animal- and plant-blended protein fit for a flexitarian diet. Students helped in creating tasty recipes using Bump such as Jamaican Beef Patties, Kofta Kebabs, Miso Mushroom Meatballs and many others! These recipes are now used in Juno Foods' social media and as marketing tools.
Bump is a product that you can find on many local store shelves such as select Red River Co-Ops, Vita Health and farmers' markets throughout the city.
Project in the media: Winnipeg Free Press and RRC Polytech Blog
Events and Competitions
Speaker Series: Join the PRK as they invite special guests such as research chefs, entrepreneurs, and industry partners to hear and learn about the direction of food trends, Indigenous traditions and food, and the intersection between food science and culinary arts.
RCA Competition: At the RCA Competition, students have the chance to showcase their innovative thinking by developing a quick serve / C – store entrée food concept. This is your chance to put your skills to the test while showing how you can make an all-natural, clean-label product – ideally highlighting food from the Kentucky area – that is ready for commercialization.
Applied Research and Innovation Day: join industry leaders, students, instructors and researchers for the annual Applied Research & Innovation Day to celebrate student applied research and research partnerships at Red River College Polytechnic (RRC Polytech). Students will have a chance to display research, meet potential employers, and win prizes.
Visit the Research Partnerships & Innovation blog to find out more about the most recent events at Prairie Research Kitchen.
How To Get Involved
Learn
Keep an eye on your Prairie Research Kitchen Learn module for upcoming events like our speaker series, job opportunities and more!
Social Media
Follow us on Instagram and Twitter to stay up-to-date on the most recent projects, contests and student engagement activities.
Co-Op Positions
Contact your co-op coordinator regarding any available co-op positions available.
Contact Us
Use the contact box to get in touch with our team and learn more about our research opportunities.