Soup's on! RRC partners with Winnipeg Harvest on healthy soup mixes for community, students
Thanks to a partnership between Red River College's Prairie Research Kitchen and Winnipeg Harvest, nutritious Hamper Healthy™ soups will soon be distributed to vulnerable Manitobans. Students from RRC's Culinary Arts program created the dehydrated mixes this summer, and officially handed off the donations — 3,000 packages worth — to Winnipeg Harvest this morning.
The partnership provided valuable work placement hours for RRC students and engaged them in a project that will deliver healthy, high-protein foods to people in need.
"When most local restaurants temporarily closed in the midst of the COVID-19 pandemic, many students from RRC's Culinary Arts program were unable to receive the work placement hours needed to graduate," says RRC President Fred Meier.
"Our solution was to use more of our space to scale up the recipes and provide nutritious storable food for people negatively impacted by the pandemic. This partnership with Winnipeg Harvest and the generous support from our donors demonstrates the value of working together to support our community and find creative ways to support our students."
The students safely worked alongside RRC research chefs to transform raw vegetables into three soup mixes: Mulligatawny, Chicken Noodle Vegetable, and Smokey Baked Beans. Dehydrating the soups was also a great way to process surplus vegetables from suppliers who were not able to use them during the pandemic.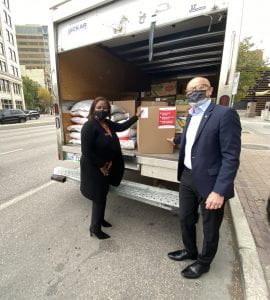 "When COVID-19 struck in the spring, we saw a significant increase in the need for food with less food donations," says Keren Taylor-Hughes, CEO, Winnipeg Harvest (shown at left, with Meier).
"This partnership allowed us to work with RRC to fill the expected food gap this fall. With CERB, rent deferral and other programs ending, these soups will be a nutritious addition to our hampers — easy to prepare, and a hearty meal for a child, family or senior struggling on a fixed income."
The initiative would not have been possible without the support of Kerry Green of March Agricultural Ltd., whose contribution kickstarted the project and brought in additional support to hire students.
"Having worked in agriculture for 40 years, my focus has always been in the areas of innovation and sustainability," says Green. "This project provides so much value — not only in providing work experience for students, but for reducing food waste and increasing food security. Winnipeg Harvest is such a great organization for our community, especially during the pandemic, and I was more than happy to support this important work."
The soup packages will be included in Harvest's food hampers for distribution through their network of 350+ food banks and partner agencies across the province. This is not the first time RRC has worked to support Harvest. Since 2013, the College has participated in the Grow-a-Row project, growing a variety of vegetables at its Notre Dame Campus garden to be donated to the initiative.