Facilities and Technology
Facilities

Paterson GlobalFoods Institute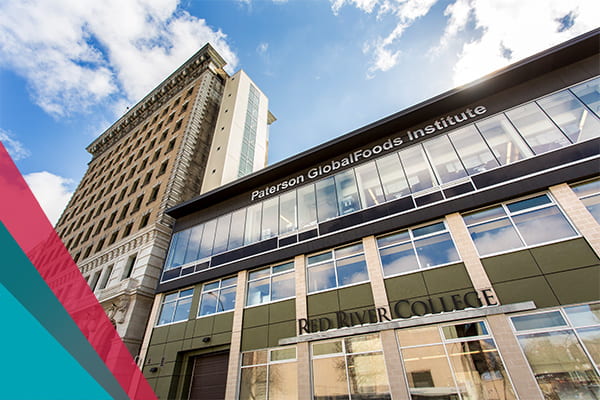 Located in Winnipeg's historic Exchange District, Paterson GlobalFoods Institute (PGI) is home to the Prairie Research Kitchen and to Red River College Polytechnic's School of Hospitality and Culinary Arts. In this state-of-the-art teaching facility, students acquire skills in professional baking and patisserie, hotel and restaurant management, and professional culinary arts.
Prairie Research Kitchen's proximity to the School allows for quick and efficient collaboration with instructors and convenient access for student employees.
Prairie Research Kitchen
Opened in 2019 and located on the 11th floor of the Paterson GlobalFoods Institute, the Prairie Research Kitchen (formerly the Culinary Research Innovation Suite) is a collaborative space for companies that partner with the Prairie Research Kitchen on applied research projects to work side-by-side with Red River College Polytechnic researchers, chefs and students.
The Prairie Research Kitchen features modular spaces to accommodate project-specific equipment as needed. The facilities come fully-equipped with everything you need to advance your food product or service to the next stage of the food development process, including:
Demonstration Kitchen
Prairie Research Kitchen's demonstration kitchen, with its sit up bar overlooking the kitchen, is ideal to run ideation sessions with clients, researchers and instructors or showcase new products to buyers.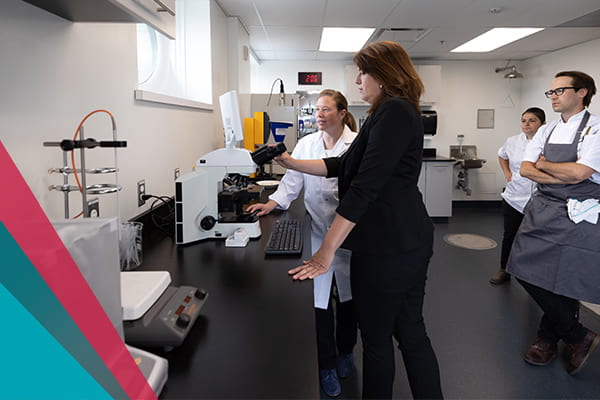 Food Quality Lab
Our food quality lab offers the perfect structure to analyze the quality and safety of new culinary products and ingredients.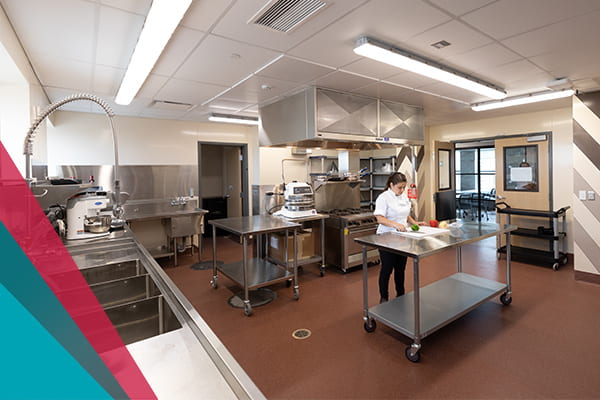 Research and Development Kitchen
The research and development kitchen is great for exploring the potential of new equipment and techniques such as fermentation, culturing, and charcuterie.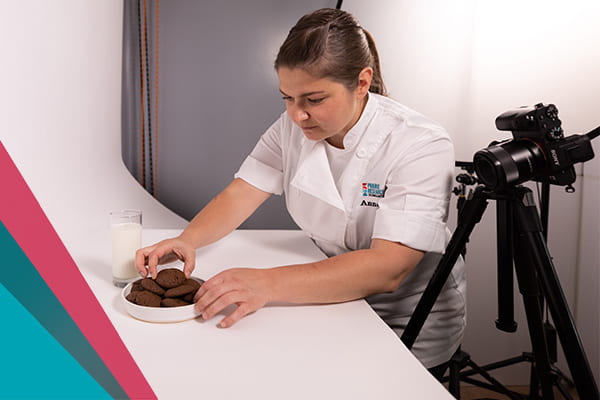 Food Styling Studio
Ideal for food photography, our food styling studio is equipped with cameras, backdrops and lights, as well as video and photography editing software.
Note: The facilities of the Prairie Research Kitchen were made possible thanks to funding from the Canadian Foundation for Innovation (CFI) and Research Manitoba.
Other RRC Polytech Facilities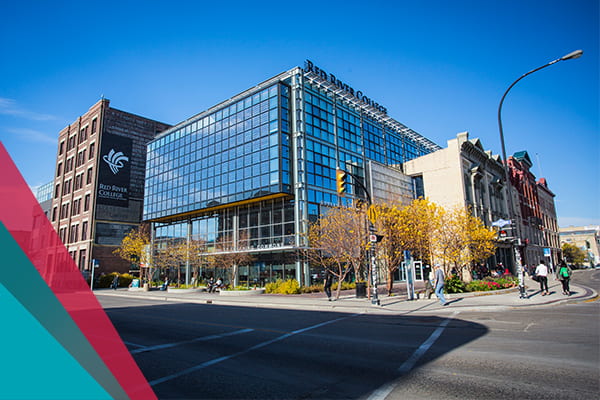 Through Prairie Research Kitchen, you can access a full-service applied research team. We can partner with other Red River College Polytechnic departments to leverage all resources to better serve local companies.
From throughout the College, we can connect you with skills in manufacturing, IT, marketing, graphic design and have partnerships with incubators, investors, business leaders and government.
"The proposed working space will be a value to small businesses to help improve turnaround time and solve industry problems. Being an owner/operator of four restaurants with a local focus, this program will be appreciated in fast tracking R&D, while leveraging the existing culinary knowledge at RRC Polytech."
– Ken Livingstone, Owner, Burrito Splendido
Technology

The Prairie Research Kitchen serves Western Canada's vibrant food production industries state-of-the-art technology. Leading edge equipment and food preparation techniques are available for clients to be used in partnership with our team of expert chefs, researchers, instructors, and students.
Centrifuge: Use separation technology to develop value-added ingredients and food products.
Rotary Evaporator: Create value-added ingredients or bioactive extracts for novel food applications.
Sonifier: Emulsify ingredients in foods and test ingredient functionality.
Blast Freezer: Prolong quality during frozen storage with fast, deep freezing.
Smoking Equipment: Increase flavour and food preservation through a controlled smoking process.
Curing Chamber: Develop customized charcuterie products and fermented foods in a controlled environment.
Food Service Equipment: Replicate food service processes at a reduced scale to determine application feasibility.
Analytical Equipment: Define food quality targets using microscopy, instrumental texture and colour analysis.
Pasta Extruder: Develop new fresh and dried pasta and noodle products using novel ingredients.
Rationale Combi-oven: Replicate a multitude of food processing thermal applications from dehydrating to steaming.
Colloid Mill: Reduce solid particles and provide even dispersal in pastes and spreads.
Chamber Vacuum Sealer: Food packaging and preservation with modified atmosphere packaging capabilities for increased shelf life and sous vide processing.
3D Food Printer: Create food structure or accurately dose bioactive extracts throughout a novel food matrix.
Doughpro Tortilla Press: Press doughs consistently and evenly with dual heated plates.
Dehydrator (113 Ft2 Capacity): Use dehydration methods to preserve foods and create shelf stable ready to eat products.
Media Mill: Achieve fine particle size reduction of raw materials for high-value nutrient separation or sample analysis preparation.
Diafiltration: Size separation of food micro- and macro-nutrients using filtration techniques.