Red River College wins global award for applied research and innovation
Red River College has once again secured its position as a world leader in applied research. In a virtual ceremony held at the end of November, the World Federation of Colleges and Polytechnics (WFCP) awarded the College a Silver medal in the Applied Research & Innovation Category, for contributions led by the Research Partnerships & Innovation department.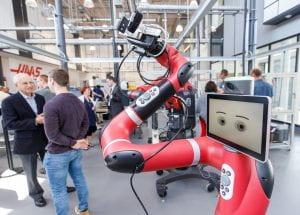 "As Manitoba's only polytechnic, we are partnering with industry and leading the way in applied research – to be recognized on a global stage is an incredible honour," says Fred Meier, president & CEO, RRC.
RRC's applied research is driven by demand and supports many important areas of Manitoba's economy, while boosting development and opportunity in many emerging areas – from agricultural and culinary research, to manufacturing and aerospace, to applied computer technology and health sciences. Students benefit by working hands-on with industry on projects that solve real-world problems.
The WFCP Awards of Excellence honour higher standards in applied education institutions. WFCP last honoured RRC in 2018 with a Silver award in this category, at a ceremony in Melbourne, Australia.
China's Wuxi Institute of Technology (WXIT) won Gold in this category, while RRC tied with another Canadian college, College La Cité, for Silver. China's Jiangsu Agri-animal Husbandry Vocational College (JAHVC) took the Bronze. The awards took place in a virtual ceremony, due to the cancellation of this year's WFCP World Congress.