Student computer systems and accounts
HUB
HUB is home to all your College resources. It is the first point of contact for Red River College Polytechnic students and provides a central location for all your College needs.
Not only is HUB home to all of RRC Polytech's online applications, but it also is the place where you can access and update your personal information. All RRC Polytech students have access to HUB, but your access to HUB resources is based on your unique program requirements. Some of the tools you can access using HUB include the following:
View your academic information, including classes, timetables, and grades.
Launch Office 365 or open your Student Email.
Submit an IT support request using the ITS Service Desk webpage.
Access Payments and Profile to view and update your personal and College information and to make payments.
Search for jobs using Job Central.
Access your class resources online using LEARN.
For more detailed information on using and customizing HUB, please see the following ITS Help Resources pages:
Accessing your T2202 tax receipt on HUB
To download and print your T2202 tax receipt through HUB, in the Launchpad widget, under Applications, click the Payments and Profile link, and then click Tax Information. For detailed information about receiving your tax receipts, please see the Access your T2202 tax receipt on HUB Help Resources page.


Keeping your HUB information secure
IMPORTANT: To log off of HUB at the end of your session and protect your private information, click the User icon in the top right‑hand corner, and then click Log Out in the drop‑down menu.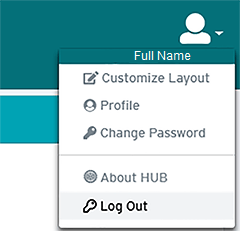 Passwords
For helpful password information and troubleshooting tips, please see the Student password help resources page.
For additional password help and support, you can also see the following pages:
Student email
Student Email (powered by Office 365) is the College's student email system. It is the official method of electronic communication between the College and students, including full‑time program and part‑time Continuing Education students at all RRC Polytech campuses (Winnipeg and Regional Campuses). Student email communication may include such things as registration information, class start date information, etc.
Student email is now mandatory for all students as the College strives to reduce the number of hardcopy (paper) items it mails to students. Regularly check your student email account for important and time‑sensitive College correspondence.
If you are a full‑time program student, the College will create a student email account for you once you have been admitted (or conditionally admitted) to your program. You will have access to this email account 24–48 hours after receiving your Admit or Conditional Admit email confirmation. If you are a part‑time program student, the College will create your student email account 24–48 hours after your course registration.
The College will remove your student mailbox 180 days after the completion of your last course and delete all of its contents. If you return to the College, you will receive a new mailbox. Ensure you save any important information and attachments to a USB flash drive because they will not be accessible after 180 days.

NOTE: If you withdraw from a full‑time program or all of your part‑time courses, the College will immediately delete your student email account.
You can log on to your student email through HUB using your student user name followed by the @academic.rrc.ca email domain. Your email would then look like username@academic.rrc.ca.
If you require assistance with your student email account, you can explore the Student Email topic on the ITS Help Resources page. If you do not find the answers you are looking for in these self‑help resources, please see the ITS Service Desk webpage to submit a support request. Ensure you include the following information in your submission:
Type of mailbox: Student Email
Two contact methods: Home or cell phone number and a personal email address (in the event that your College email address is not working).
Student Service Centres
The Student Service Centres serve as the Information Centre and the first point of contact for all students and visitors to the Red River College Polytechnic campus. Visit or contact the Centres for a variety of services in one convenient location.
Computer labs with networked computers
College computer labs are available for general use when there are no classes in progress (most labs have a schedule posted on the door). You can access labs after hours using your student card. If you require the use of specific computer software, please consult your instructor for appropriate lab locations.
Student printing using PaperCut
Red River College Polytechnic uses a program called PaperCut that allows you to print documents using networked printers, which are available in designated student labs. You can conveniently pay for your printing directly out of your PaperCut print account.
You can add credits to your student print account using the account pay stations available at NDC and EDC, by logging on to your online PaperCut account, or by visiting either Campus Store location. The PaperCut software also provides convenient 24/7 access to a detailed summary of your printing balances and the total number of completed print jobs.
---