Introduction to HUB
HUB is home to all your College resources. It is the first point of contact for Red River College Polytechnic students and provides a central location for all your College needs.
Not only is HUB home to all of RRC Polytech's online applications, but it also is the place where you can access and update your personal information. All RRC Polytech students and staff have access to HUB, but an individual's access to HUB resources is based on their unique program and job requirements.
Log on to HUB
On the RRC.CA home page, click Log In in the top right‑hand corner.

On the Login to HUB window, enter your College user name, and then click Next.


NOTE:

On the HUB log on screen there are two options at the bottom:

If you would like to change your password or have been prompted to change it, click on Change your password.
If you need to claim your account for the first time, or you have forgotten your password, or you have missed the deadline to change your password, click on Claim your account / Forgot your password.

On the RRC Polytech active directory sign in window, your College user name (followed by @rrc.ca for staff or @academic.rrc.ca for students) should automatically populate in the user name field, enter your password, and then click Sign in.

HUB for students
View your academic information, including classes, timetables, and grades.
Launch Office 365 or open your Student Email.
Submit a request to receive technical support using the ITS Service Desk webpage.
Rent Lockers.
Use Payments and Profile to make online payments and view and update your personal and College information. This is sometimes referred to as Self Serve.
Search for jobs using Job Central.
Access your class resources online using LEARN.
HUB for staff
Keeping your HUB information secure
IMPORTANT: To log out of HUB at the end of your session and protect your private information, click the User icon in the top right‑hand corner, and then select Log Out in the drop‑down menu.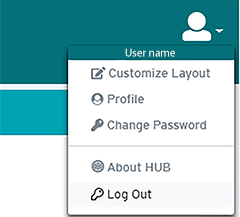 ---