Before coming to Red River College, Allison learned she has multiple learning disabilities and was advised to not take classes with reading, writing or math. She was also told that she would have to choose a different career than the one she had set her heart on.
Instead of taking no for an answer, Allison applied to the Civil Engineering Technology program at RRC to prove to herself and to others that her disabilities don't define her.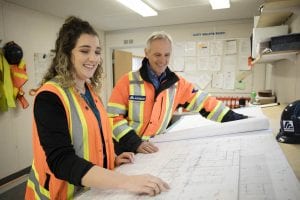 "When I got to Red River I was nervous it would be a similar experience to my time at university, but I was wrong," she said. "Here, instructors know my name. They say hello in the hallways, they care about my grades, and they make time to answer all my questions – and I had a lot of questions. At Red River the instructors take a personal interest in my success and work with me so I can succeed. Being here feels like I have my own private tutor for every class."
At RRC, Allison was provided with the supports she needed to succeed and even thrive in the Civil Engineering program. After graduating she decided to grow her skills further and is currently enrolled in the College's Construction Management program. The hands-on and applied-learning, at the RRC has been something that really works for her.
During Allison's time at the College, she went on co-operative work placements where she was given the opportunity to play an integral part in the design and construction of RRC's newest building, the Skilled Trades & Technology Centre.
Allison feels extremely fortunate that the instructors and staff at Red River have provided her with the skills necessary to successfully complete her co-ops, have a role in giving back to RRC and help create a building that will provide similar experiences for future students.
---
With your donation, you can be part of life-changing educational opportunity for students like Allison.