Anna Borys wins CEM Co-op Student of the Year Award for placement with Prairie Research Kitchen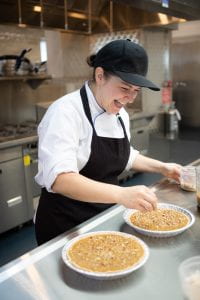 When Anna Borys signed up for the Culinary Arts program at Red River College's School of Hospitality, she wasn't sure where it would take her – she just knew she didn't want to work in a restaurant.
"I went into culinary school knowing I didn't want to work in food services," she says. "But I didn't know what else was out there."
Having worked for her family's glass business for 10 years before going back to school, Anna had developed a taste for the nine-to-five lifestyle – a schedule the fast-paced service industry doesn't always allow.
This confusion about her future left her in a bit of a pickle, until she started her co-op work placement with RRC's Culinary Research team, which operates out of the Prairie Research Kitchen on the 11th floor of the Paterson GlobalFoods Institute (PGI). Anna credits her co-op placement with determining her career path.
Anna first encountered the Culinary Research team while cooking her way through Culinary School. The team would often pop up in her labs and classrooms – working with instructors and making presentations to students about the work they do with clients in the food development industry.
"When they told us they work on developing recipes and that they were looking for co-op students, I knew right away that's what I wanted to do," says Anna.
Now, after successfully completing her co-op placement, Anna has started working full-time with the Research team.
One of her first projects was working on a new consumer food product called Bump – a ground beef/plant protein blend aimed at the flexitarian market – with James Battershill from Juno Food Labs. Anna developed a delicious Bump kofta kebab recipe that's a hit with the client (and everyone else who's tasted it).
"Working on the Bump kofta is definitely a highlight for me," says Anna. "It's one of the first recipes I worked on, and the client now uses it as a sample. It's quick, delicious, and shows how versatile the product is."
An avid photographer, Anna started an Instagram account to document what two years of the RRC Culinary Arts program is like. She says one of the most rewarding aspects of her co-op is taking food photos for clients like James, who often end up using them for their own marketing purposes.
Anna's hard work is now being rewarded, as she was recently named the Co-operative Education Manitoba (CEM) Co-op Student of the Year Award for 2019.
"This award shows how important this industry is," she says. "It's up and coming. The Culinary Research program is pretty new at Red River College, so this recognition is huge for the research program."
She's also no stranger to winning awards – Anna took home the second-place prize at last year's Applied Research & Innovation Day for her soy-free tempeh project, which she developed alongside the Culinary Research team. She'll also graduate at the top of her class at next week's convocation ceremony and is preparing to apply for the National Co-Op Student Award.
Despite her success, Anna is quick to credit the amazing team she worked with for helping her get where she is.
"I really don't feel like this is my award," she says. "It's our award. This wouldn't have happened without Mavis, Heather, and Kyle from Culinary Research – this showcases our teamwork. I don't want to take credit, it's our credit."
Now her co-op experience has come full circle, as she's helping to mentor the next wave of Culinary Arts students who are working in the Prairie Research Kitchen. She continues to be an advocate of the co-op process and shares her experience regularly with students.
"The co-op program is the reason for my career path," she says. "This award, my success – this all has to do with my co-op and working with Culinary Research."