Creating forms for surveys, self-reflection, or self and peer evaluation through forms
Creating forms for surveys, self-reflection, or self and peer evaluation through forms
Forms are a powerful tool that will integrate with your course content and a users ePortfolio. Forms can be used for surveys, guided reflections, self-assessment, peer-evaluation and more. Forms are the only way for a student to fill out a rubric and completed forms can be easily submitted to a dropbox for instructor assessment.
Creating a Form
 Click on "New Form Template" button
 Name your Form Template (1), ad a Description if desired (2), and click "Save"
(3)
 Click on "Add System Field" button to choose what user data you would like to collect when the form is filled out
 Select what data you would like to include in your form (1) and click "Add" (2)
 Give the Field a Name (1), decide if it's required or not (2), and select what Data Type you would like (3)
 In this example "Drop-down List" was selected as the Data Type. Fill in any required information (1), decide on any optional settings (2), and click "Save" (3)
 Click "Add Custom Field" to continue adding fields.
 Fill in the required fields (1), select your Data Type (2),  click on "Which data type should I choose?" (3) if you need an explanation on data types, fill in any optional fields (4), click "Save" (5) when done.
Using Forms Allows for Self and Peer Evaluation
Forms will allow for self and peer evaluation through the use of rubrics. Rubrics will need to be published in the course shell and the "Advanced Availability", "Allow new associations in ePortfolio" option will need to be selected.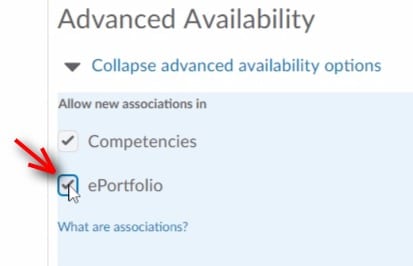 Select "Rubric Evaluation" as your custom Data Type
 Give your Field a name (1),  Click on "Select Rubric" (2) button (Note: You will have had to build the Rubric into LEARN already and have it published), click "Save" (3)
Making a Form Available to Students
Click on "Course Content", and "Content".
 Click or create the Module you would like the Form to be added to (1), click on "Add Existing Activities" menu (2), click on "Form Templates" (3)
 Click on the Form you wish to add
 The Form is now added to the content