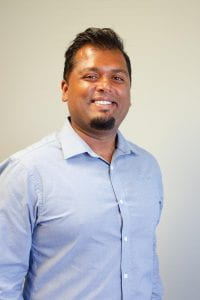 Unlocking new skills has a way of taking someone's career to the next level.
For Sibu Thomas, those leaps have come quickly since graduating from Red River College's Project Management certificate program in 2019.
After getting his certificate, Thomas moved from a Project Coordinator role with Meridian Manufacturing Inc. into his current job as Industrial Regional Sales Manager, covering technical sales for clients in Manitoba, Saskatchewan and North Dakota.
A Manitoba-based company, Meridian builds storage and handling products for agriculture and industry — and endorsed Thomas's enrolment in the RRC program back in 2018.
Having travelled a career path that started in chemical engineering technology and oilseed processing, Thomas credits that endorsement and the program itself for helping him take this next step.
"I wanted to enhance my skills, (but) I had no official background in project management training," says Thomas. "So I signed up at RRC and it led to me implementing new project management tactics for Meridian. That really led me to being promoted to the position I'm in currently."
The promotion isn't the only recognition Thomas has earned in the last two years. He was also the 2019 choice for RRC's joint award with the Project Management Institute (PMI), recognizing outstanding student work. The award is handed out each spring to the top student in the Project Management program and comes with a $1,000 cash prize courtesy of PMI Manitoba and RRC. Due to the COVID-19 pandemic, the 2019 award was presented in 2021.
Read More →