Social Innovation Micro-Credentials
Red River College Polytechnic's social innovation courses in the form of micro-credentials provide the knowledge and understanding to drive positive social change through community development and relationship-building.
Social innovation brings new perspectives to existing ways of decision-making in today's world. In these micro-credential courses, you will discover the tremendous capacities of communities and individuals looking to initiate systems change.
Micro-credentials Explained
Micro-credentials are shareable endorsements of knowledge, skills or competencies that are awarded as digital badges. Learn more ›
RRC Polytech Micro-Credential Courses
The following micro-credential courses are created and delivered by Red River College Polytechnic.
Learn more about each course by clicking on a section heading.
Indigenous Community Consultation and Engagement
These online micro-credential courses focus on Indigenous community consultation and engagement, offering the preferred training of progressive organizations, governments, and professionals committed to Indigenous relationship-building and reconciliation.
Courses were developed by a collaborative team composed of members from RRC Polytech, community, industry sectors and Indigenous and non-Indigenous subject matter experts.
Courses at a Glance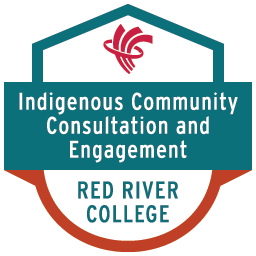 Each online course provides 25 hours of instruction time and awards one credit hour and a digital badge upon completion.
Completing all three courses awards a fourth digital badge that demonstrates your competencies in Indigenous community consultation and engagement.
Benefits to Organizations and Governments
These courses help:
Streamline business with and in Indigenous communities.
Provide a competitive advantage.
Work and communicate effectively and respectfully with Indigenous communities.
Promote your organization as a leader in social innovation.
Benefits to Professionals
These courses allow you to:
Start a rewarding career in community development and social innovation.
Gain an opportunity for employment.
Build the necessary communications skills that are used in virtually all professions.
Fulfill your purpose.
Outcomes
Indigenous peoples are diverse and developing a strong relationship with nations and communities will allow for deeper understandings of this diversity and how best to engage with them.
Indigenous sovereignty and decision-making is a constitutionally protected right and these micro – credential training courses will provide you with the knowledge and skills for relationship focused engagement with Indigenous peoples.
The outcomes of engagement should remain focused on collective community knowledge, adding value to the lives of Indigenous and non-Indigenous peoples, building capacity and reflecting cultural ways of knowing so community members can make informed decisions.
Relationships are the foundation for good engagement and requires time to build trust. It requires commitment to establish and sustain good relationships with Indigenous partners throughout all facets of a project.
Consultation can involve the following: meeting with Indigenous communities to share information about the project, provide reasonable resources for Indigenous communities to participate in consultation and discuss any concerns or asserted impacts of the project on Indigenous or Treaty rights.
Upon completion, you will understand the historical and current colonial context and how this impacts Indigenous communities and projects within their communities.
You will learn how the Indian Act, the Truth and Reconciliation Commission Calls to Action and the United Nations Declaration on the Rights of Indigenous Peoples effect projects and how to effectively engage by utilizing guides along with other policies and principles.
Information Session
For additional information on the courses and answers to questions from others interested in registering for the courses, check out the information session recorded in September 2021.
Registration
Employee Registration
Organizations can sponsor employees to attend a course.
Note: An organization group discount of 10% applies when registering five or more employees.
Your organization may be eligible to receive up to $10,000 for training each new or existing employee. Find out if you qualify for the Canada-Manitoba Job Grant.
Course Availability
Courses may be offered on a rotating basis. If registration for your desired course is unavailable, sign up to be notified when registration reopens.
Additional Information
If you have a question about RRC Polytech's micro-credential courses, contact us.