RRC Polytech's mentorship program helps student land refreshing summer job
Stars were aligning for Sehajdeep Singh in early 2020 – a Business Technology Management (BTM) student finishing up his first year, he had a summer job lined up at a credit union in a different city and was looking forward to putting what he was learning in school to the test.
But, the COVID-19 pandemic turned his plans upside down.
Due to lockdowns, Singh's summer job fell through and he had to go back to the drawing board. Unsure if he'd be able to find a similar placement in Winnipeg, Singh began working his network.
As a member of the RRC Polytech Café, the College's mentorship and networking platform that connects students with alumni, Singh had access to graduates from a variety of industries.
That's how he met Dennis Cunningham, a 1991 graduate of the Creative Communications program.
"I heard about [the platform] through an email from Alumni Engagement and I liked the idea of being a mentor. I've been out of the College since 1991, so I've got a fairly decent network in the city," said Cunningham, who works at Assiniboine Credit Union as the Manager of Environmental Sustainability.
The pair exchanged emails and Singh told Cunningham about his placement falling through.
"I said, I know a couple of people that work for either an IT company or someone that owns their own business that might be looking for somebody and I'm happy to connect you with those people," Cunningham said. "That's kind of how it happened. Classic Winnipeg: somebody knows somebody, and when you know them, I kind of know them, too."
One of Cunningham's running mates, Darryl Stewart, happened to be the right connection.
It turned out that Chaeban Ice Cream was looking to ramp up their online e-commerce capabilities. Due to the pandemic, it was necessary for Chaeban to adapt and innovate – thus, an ice cream subscription service was born.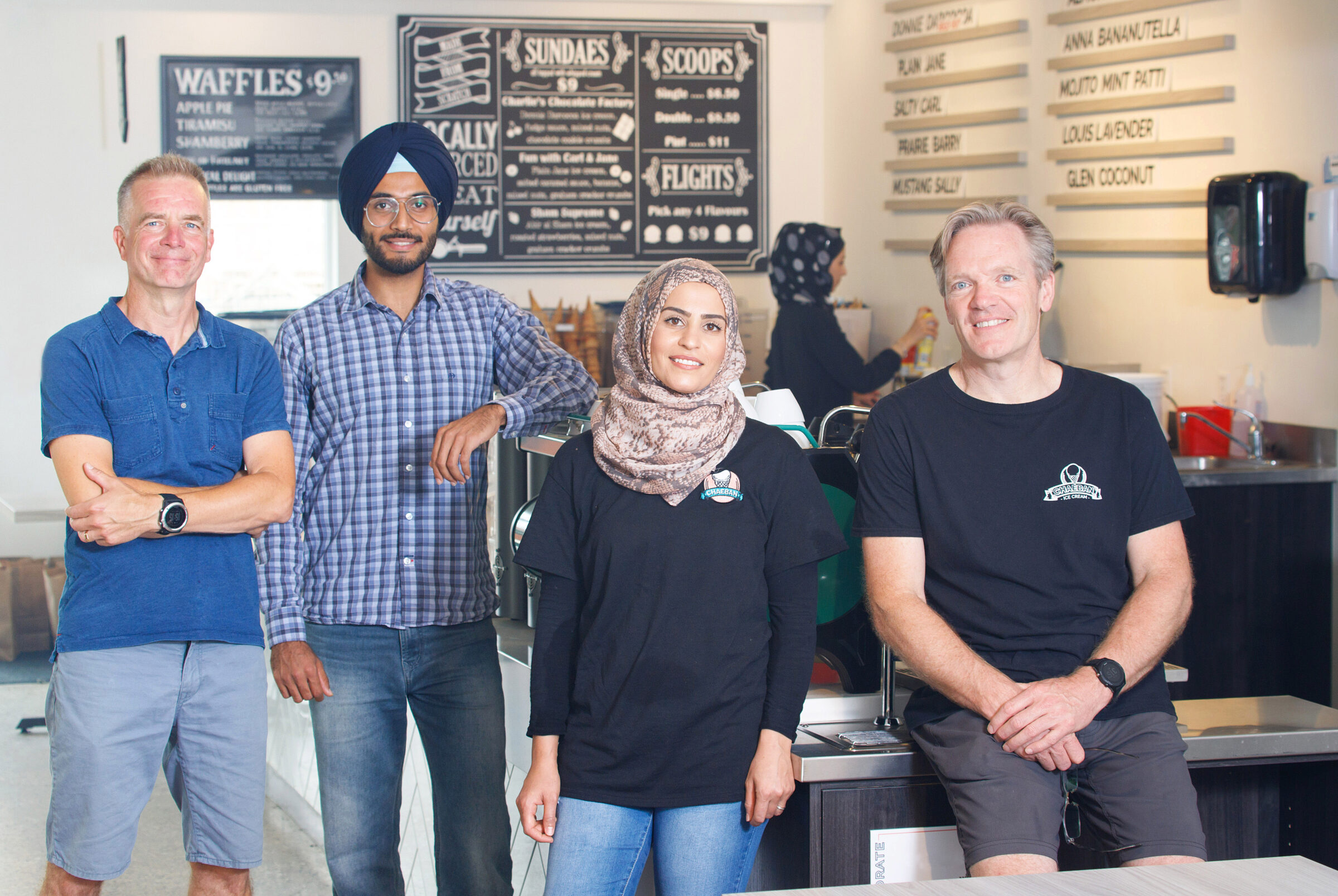 The owners of Chaeban were on the hunt for someone with tech experience to help them build up their online platform, and it was the perfect role for Singh, who stepped in as a software development manager for the summer to help the award-winning ice cream company develop their delivery system.
The initial match between Singh and Cunningham was made possible through the RRC Polytech Café, which is powered by Ten Thousand Coffees and RBC Future Launch. The platform uses smart-match technology to connect current students and recent graduates with mid-career and seasoned alumni based on interests and program areas. During the height of the pandemic, the digital-first platform came in handy, helping folks in the RRC Polytech community stay connected through virtual 'coffee chats'.
"It was kind of fun because I got two emails going, "tell me again how you two met. What have your conversations been like?" And I'm like: we haven't actually had a real face-to-face conversation yet!" said Cunningham.
Singh said it was the College's good reputation (and the good standing of its graduates) that enticed him to move from India to Winnipeg for school in the first place. And, while he knew the value of mentorship, he certainly didn't expect that his second-ever match on RRC Polytech's hub would lead to a job.
"It happened at the very right time. It worked out pretty well!" said Singh, who completed a work placement with Assiniboine Credit Union as a Programmer Analyst Intern in his second year, and graduated from his program in 2021 with Honours. He now works as a Solution Analyst with Wawanesa Insurance.
For someone who used to be quite shy, Singh credits networking and mentorship with helping him build up confidence.
His advice to current students? "Reach out. I think the very best way to learn things is by exposure. Get as much exposure as you [can], because this whole thing is about what you take out of it. Things won't come to you – you have to go out and try."
---
Find your next RRC Polytech community connection through the College's mentorship and networking hub. Join the RRC Polytech Café today.