Grounds
The Grounds team works through rain, snow and sun to keep our outdoor spaces beautiful, inviting and safe. Here's some ways they keep our landscapes thriving in a sustainable way:
Biopesticides and Integrated Pest Management
When it comes to caring for the 98 acres of land at the Notre Dame Campus, the grounds crew uses Integrated Pest Management (IPM) – an effective and environmentally sensitive approach. The first step in IPM is keeping plants and landscapes healthy. When further measures are needed to manage pests, biopesticides are used as a first choice rather than traditional pesticides. Biopesticides originate from animals, microorganisms, or plants, are less toxic than pesticides and often quickly decompose.
The emphasis is on controlling pests rather than eradicating them. Trying to eradicate entire populations can harm ecosystems, is expensive, and often impossible. Under IPM, pest populations are left alone until they surpass acceptable thresholds. Pests that are attacked too strongly might develop resistance to control methods, which could create future populations of control-resistant-super-bugs.

Tree pests: There are two basic steps for dealing with pesky tree pests on campus grounds. First, a non-toxic landscape oil is sprayed on the trees before the leaves bud. This coats any eggs left by adult moths the previous season, preventing them from hatching. If the pest population still grows greater than threshold levels, the grounds crew then sprays Bacillus thuringiensis (Bt), a naturally occurring soil-dwelling bacteria that causes disease in certain insects.
Weed and turf pests: The grounds crew keeps the turf as healthy as possible by aerating, top dressing, watering and fertilizing. Keeping the turf healthy and strong makes it resistant to minor pest attacks and able to outcompete weeds.
Composting
Did you know that coffee grounds are a key ingredient in our College's topsoil? That's because our grounds crew makes compost using coffee grounds and pre-consumer food scraps from our college kitchens. The compost pile on our main campus gets around 300 pounds of fresh produce and grounds a day. Whether or not the coffee makes the plants any perkier we have yet to confirm!
Yard waste (leaves, grass clippings etc.) and wood chips from fallen trees also go into the compost, balancing carbon-to-nitrogen ratios. The nutrient-rich pile is turned every three weeks and tested with a four-foot-long thermometer to ensure the compost reaches the right temperatures. Optimum composting happens between 45 to 65 degrees Celsius, and the temperature is regulated by either adding moisture or turning the pile.
Learn more about composting on campus here.
Pollinator Garden
The Notre Dame Campus is home to a pollinator garden, located on the east side of the arboretum. It's a nice complement to our rooftop beehives as it keeps our bees and other pollinators well-fed with nectar or pollen-producing plants like Prairie Coneflower or Showy Goldenrod.
Interested in creating a pollinator garden in your own yard? Check out these resources:
Grow-A-Row
Grow-A-Row is an annual Winnipeg Harvest event where businesses and residents grow an additional row of veggies (or more) in their garden to donate to Manitobans in need. The Grow-A-Row initiative started here at RRC Polytech in 2013 and has since helped to support the greater community by providing over 17, 376 lbs of RRC Polytech harvested produce. Led by Grounds Gardener Shivcharan Sandhu, the RRC Polytech grounds crew grows, harvests and donates almost all of our campus-grown veggies to this great cause. Every year the enthusiasm and harvest yield grows!
| Grow-A-Row Year | Harvest in Weight (lbs) |
| --- | --- |
| 2013 | 1,200 |
| 2014 | 1,504 |
| 2015 | 1,622 |
| 2016 | 2,877 |
| 2017 | 2,803 |
| 2018 | 3,100 |
| 2019 | 4,270 |
| 2020 | 2,461 |
| 2021 | 2,704 |
Usually in late September, student and staff volunteers help the grounds crew dig up the patch and prepare the vegetables for Winnipeg Harvest. Keep an eye on our news and events page for info on the next one.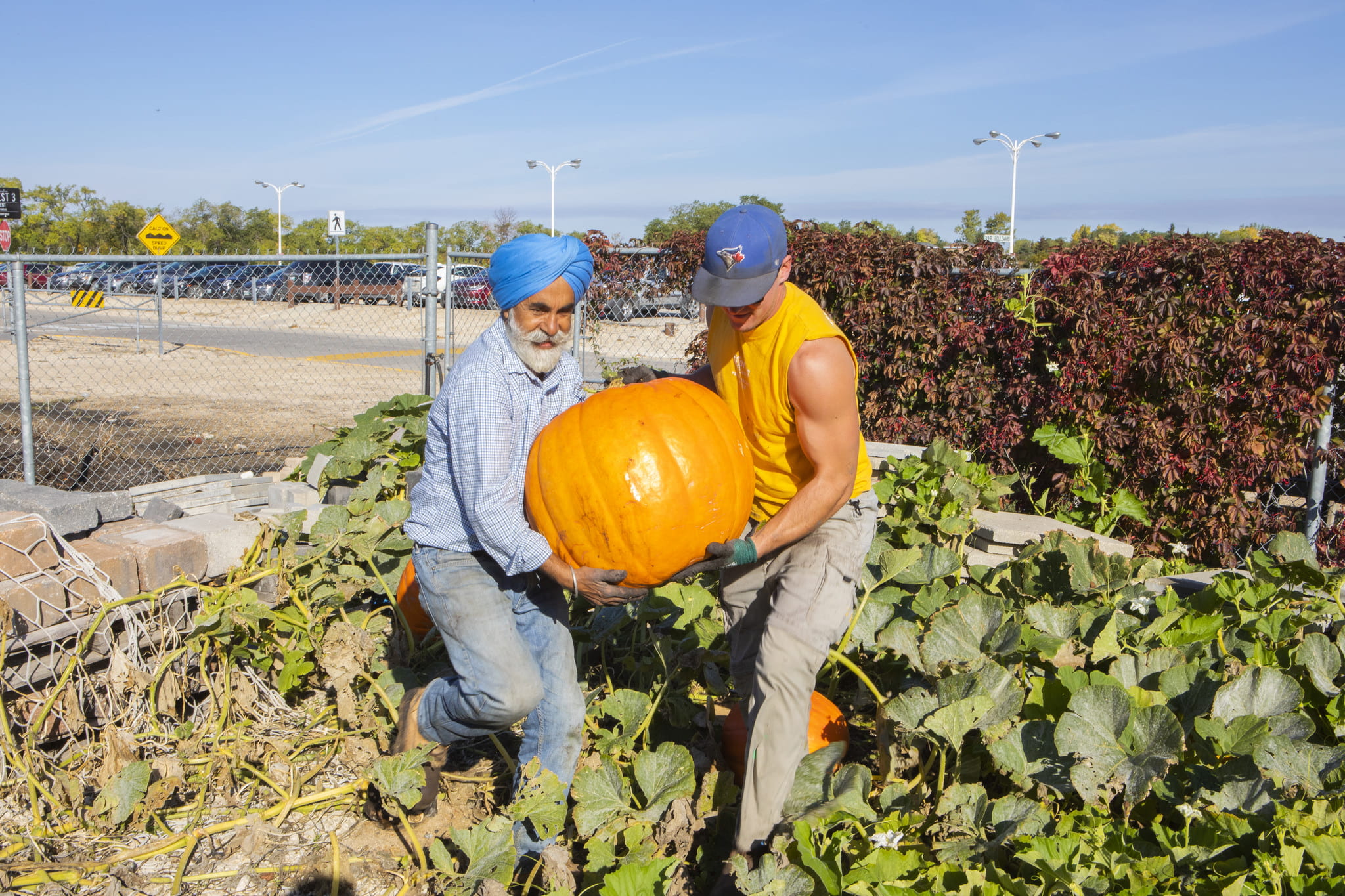 Campus Grown Food
The Notre Dame Campus's vegetable garden is located between the West Parking Lot and the old Greenhouse. While the majority of the produce goes to Winnipeg Harvest and the Students' Association Food Bank, a portion of the herbs and veggies are used by Food Services. Herbs are used all year round and pumpkins in the fall. Next time you take a bite of a pesto sandwich or a slice of pumpkin pie on campus, you can know ingredients probably came from the campus garden.