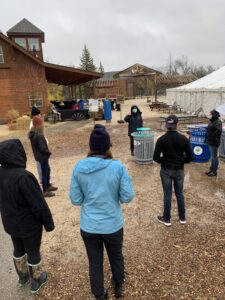 When our former RRC Polytech Sustainability team member, Renata Machado – now the Sustainability Specialist at the Assiniboine Park Conservancy (APC) – approached us about a possible student project to increase waste diversion at the Assiniboine Park Zoo, we were thrilled! Our office has worked with many students on applied learning projects which have helped advance sustainability at the College while giving students practical experience in their field. So naturally we jumped at the opportunity to support a key community partner in achieving a sustainability goal.
This collaboration with APC is a natural extension of our "campus as a living lab" program, which aligns perfectly with the following strategic priority in RRC Polytech's new Strategic Plan 2022-2026, In Front of What's Ahead:
Increased applied research partnerships and integration of applied research within academic programming.
Through this project, and future collaborations, we will be helping to drive Manitoba forward economically, environmentally, socially and culturally.
We approached the Arman Vahedi, an instructor in the Environmental Engineering Technology program to partner with us on the project. In the past, our office has had great success partnering with this program who third-year students are required to complete an Applied Research Project (ARP) to gain practical experience in their field.
"Our Environmental Engineering Technology program at Red River College Polytechnic has partnered with many community and industry partners over the years to help advance their goals through applied learning opportunities for our students.  I am very excited about this new partnership with the Assiniboine Park Conservancy and the mutual benefits it offers. Through this project our students are getting invaluable hands-on experience in their field while also helping an important community partner reach their sustainability goals."

Shari Bielert, Chair, Civil Engineering Technology
On a cold, rainy day at the end of October, the Environmental Engineering Technology students toured the waste program at the Assiniboine Park Zoo and learned about the project which would launch with a waste audit from the final night of Boo at the Zoo. Two student teams dove right in on November 1 sorting through the previous day's empty hot chocolate cups and greasy fry boxes to understand the composition of the Zoo's waste and how well visitors sort it into the appropriate bins. The students will spend the next several months analyzing the waste audit data and waste collection processes and researching possible solutions.
This project will address a small but important piece in the efforts to increase waste diversion and advance sustainability at APC.
"As a conservation organization, we are committed to reducing our ecological footprint by identifying sustainability targets and measuring progress towards them. This project is a great example of that.  The information gained will be very valuable in helping us understand how our organization can reduce contamination in recycling bins and improve our diversion rate. We are so grateful for the opportunity to collaborate with RRC Polytech and your Sustainability Office on this project. We have learned a lot in the process and are very pleased to provide a hands-on learning experience for students. We hope this partnership will continue for many years to come."

Renata Machado, Sustainability Specialist, Assiniboine Park Conservancy
In the spring, the students will hand in their final reports and APC will begin work on implementing recommendations. We can't wait to share the results of their hard work!