Turning the Page on a New Term
Happy New Year! It's a new year and a new term, and if you're still thinking about a New Year's Resolution, how about considering one to reduce your paper consumption?
Did you know that if you stacked up all the paper used for printing and photocopying by RRC staff and students in one year, the pile would be the 4th tallest tower in the world?
Over the past couple of years our office, in collaboration with the Print Optimization Working Group, has been working on initiatives to optimize our print environment on campus and reduce paper consumption. With PaperCut, we have the ability to track all printing and its related impacts across the Campus. This allows us to see our progress in terms of how much we've reduced printing and the associated financial and environmental impacts.
If you've been in the NDC Library Hallway lately, you may have noticed the large RRC Printing by the Numbers display which tracks our paper consumption progress year-over-year by term for staff and student printing and photocopying. With each year, we continue to reduce our paper consumption at the College. Click on the graph below to see how the numbers have stacked up so far!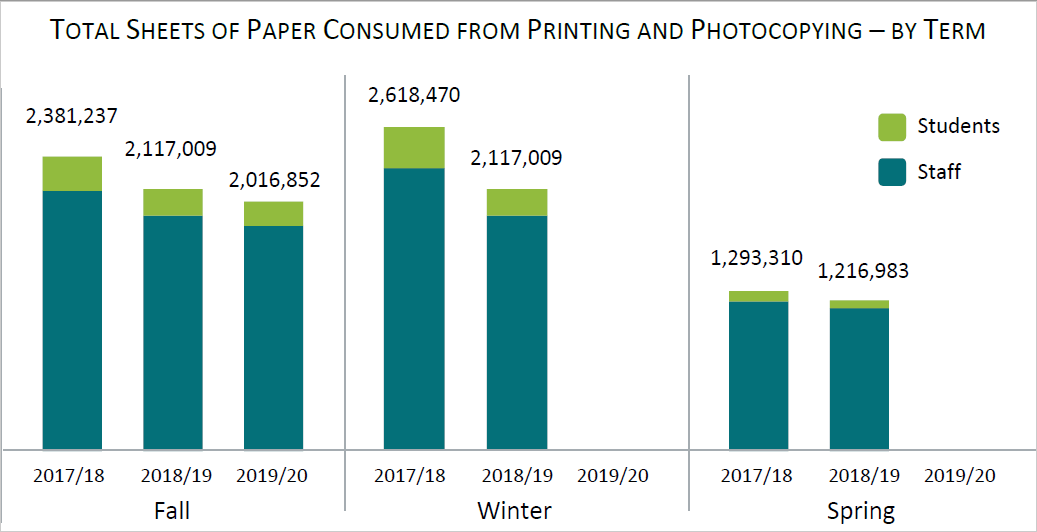 Let's keep the ball rolling and make a bigger commitment to reducing our printing in 2020! Come by the Library Hallway Thursday, January 9th between 11 am and 1 pm to pledge a new year's paper reduction resolution and enter a prize draw. All pledges will be written on recycled paper airplanes and hung up beside our paper display.
Can't make it on Thursday? Send us your own 2020 paper reduction pledge by email to sustainability@rrc.ca by Friday, January 10th  at noon. We'll add your pledge to our airplane wall and enter you in the draw.
Need some inspiration? Here are some examples of pledges you could make to reduce your paper consumption in 2020:
Print double-sided.
Format documents to use less paper – for example use slightly smaller fonts or margins.
Reuse one-sided paper for notes, sketches, rough work, etc.
Print only the sections you need from long documents.
When printing a webpage, copy and paste the text into a word processor so that it is formatted correctly for printing and you only print what you want. Better yet – bookmark the webpage instead of printing it!
Print to PDF. If you want to keep a document that isn't easily saved (i.e. a webpage) select print to PDF and save the document digitally.
Use digital resources like LEARN, Dropbox, One Drive and Microsoft Track Changes to share and collaboratively edit documents.
Host paperless meetings – share necessary documents for meetings electronically ahead of time and let everyone know that you won't be providing printed copies. Then people can choose to print only what they really need.
Think twice, print once. Before you print, take a moment to consider whether you need to print or if there is another option.
Challenge others! Already a proficient paper saver? Challenge your friends and colleagues to make a pledge and reduce their paper consumption.