Disposable Mask Recycling Expands to the Exchange District Campus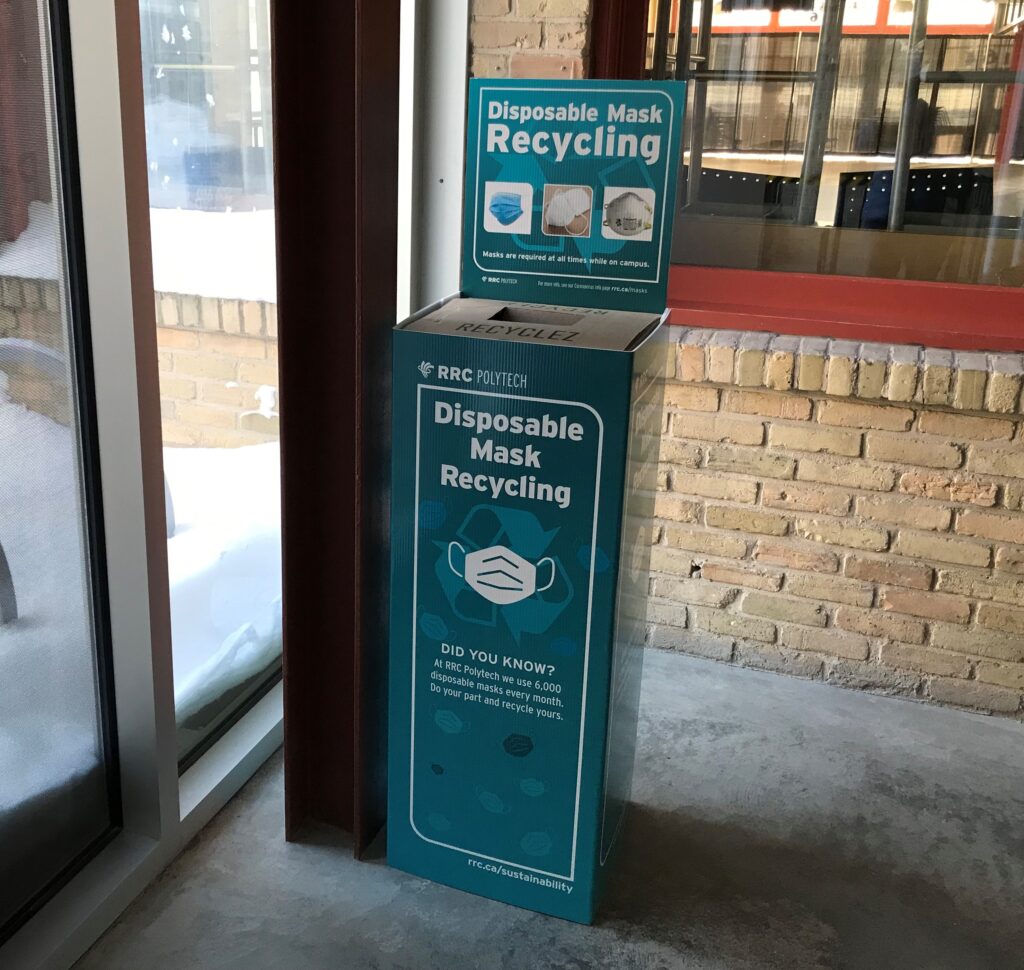 It's 2022 and masks continue to be an everyday staple in our lives. Throughout the pandemic, mask guidelines have evolved as new information becomes available.  At the college, health and safety remains the top priority and a new requirement to wear medical grade masks or KN95/N95 masks was introduced in January 2022. 
Many people are concerned about the environmental impact of disposable masks. In response to these concerns, Red River College Polytechnic was proud to be the first public institution in Manitoba to set up a disposable mask recycling program at our Notre Dame Campus in February, 2021.  Since then, we have sent an estimated 44,000 masks to be recycled!
Building on this program's success, we're excited to announce the expansion of the disposable mask recycling program to the Exchange District Campus.  All faculty, staff and students can bring their used disposable masks – including 3-ply surgical, dust masks, and KN95/N95 masks – to any of the mask recycling boxes listed below:
Exchange District Campus Mask Recycling Locations
Roblin Centre, north entrance
Paterson GlobalFoods Institute, third floor by the lockers
Notre Dame Campus Mask Recycling Locations
South Parking Lot, by Commissionaires Booth
STTC Building, main entrance
Building J, north entrance
Masks can only be recycled in the boxes at these locations, and not in the regular recycling bins. The masks are recycled using TerraCycle's Zero Waste Box program, where they are separated into component parts and recycled into plastic lumber and composite material used in outdoor furniture, decking and shipping pallets.  Find out more about mask recycling here.  Thanks to our wonderful faculty, staff and students for supporting this program and helping to keep disposable masks out of the landfill.