The results of the RRC Polytech sustainability survey are in – sustainability is important, and people are engaged. The survey was sent to staff and students in February and a whopping 650 staff (30%) and 1,100 students (13%) responded, showing how much people care about sustainability. This reflects the trend in Canada and globally, that people are increasingly concerned about the environment, and they want to live more sustainably.
This was the most comprehensive survey on sustainability at the college in 10 years, with questions on sustainability culture (how people feel) and literacy (what people know). The survey results are used to help inform our Sustainability Tracking, Assessment & Rating System (STARS) report and develop programs and initiatives.
Here are some highlights from the survey results.
Sustainability Culture
The culture of sustainability at the college is resoundingly positive.  Most staff and students said that environmental sustainability is important, they want to learn more about sustainability, and they consider social sustainability when making purchases.  This echoes the value of sustainability in the 2022-2026 Strategic Plan.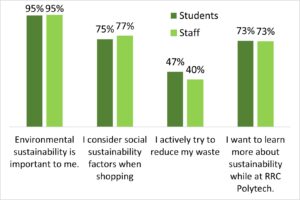 Environmental Priorities
With sustainability as a value that guides us, there are many different areas we can focus our efforts.  Staff and students identified reducing / minimizing waste and other waste diversion programs as the most important environmental sustainability issue to address.  Waste reduction and diversion are some of the most visible sustainability programs at the college.  The second priority identified is to increase awareness and education, followed by support for sustainable transportation.  All three priorities help reduce our greenhouse gas emissions.
Sustainability Literacy
Understanding sustainability and its main concepts can help affect change. When asked to identify the three main components of sustainability, 41% of staff and 31% of students successfully identified economic, environmental and social, while 43% of staff and 52% of students selected reduce, reuse, recycle.
This is not surprising, given the effectiveness of the 3R messaging and the decrease in visibility and communication on sustainability during the pandemic. Historically more staff answered this question successfully. This year had the lowest successful response rate.
For the other literacy questions, most staff and students could successfully define a life cycle analysis (89% / 68%); define the concept of Zero Waste (91% / 77%); and identify the food with the highest carbon footprint (81% / 67%).
Social Sustainability
Social sustainability is fundamentally interconnected with environmental sustainability.  We asked staff and students to identify examples of social sustainability.  Most staff (76%) and students (68%) identified truth and reconciliation, which could be connected to increased focus and education.  A much smaller number of staff (29%) and students (18%) identified accessible technology (using closed captioning in course materials).  For this question, all the answers are examples of social sustainability at the college.
The survey results showed that staff and students value sustainability and have a good understanding of the concepts.  The results provided us with feedback on what's going well and where we can improve.  Thank you to everyone who completed the survey, your answers provide valuable input and help inform sustainability work at the college.