Cinema 4D / ZBrush Installation
Students will need a Maxon One license to gain access to Cinema 4D as well as ZBrush.
From this page, click the KIVUTO button.
This will bring you to the OnTheHub page where you can select Maxon One (Six Month Subsciption) product type from the drop-down menu and Add to Cart.
Please be aware Maxon One has a $9.99 USD processing fee that needs to be paid every six months. Credit Card or PayPal is accepted.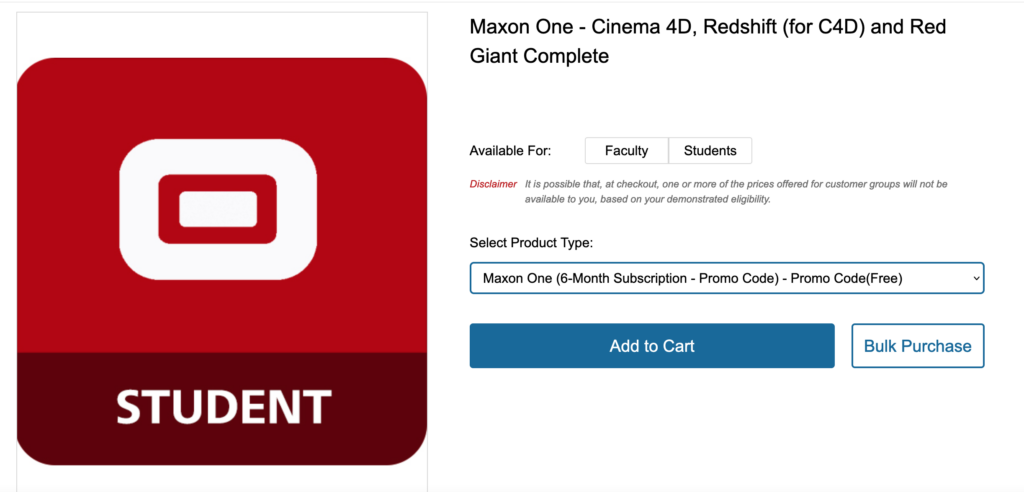 After adding Maxon One to your cart, click the cart button in the top right to proceed to the checkout.
When prompted to register, enter your RRC Polytechnic email to verify, complete the registration and choose "Student" from the drop-down menu before proceeding.
You will receive a verification email which will give you a link to complete your purchase. Make sure you also check your junk mail if you have not received it.
After validating your email, click Checkout again. If you receive a message that you are not eligible for the product, please wait a few minutes and try again.
Once you are eligible, click Checkout and a new window will open, agree to the terms and continue. Enter your contact info and Proceed With Order.
Copy your promo code and then click on Instructions then click the maxon.net link. This will take you to the Maxon checkout where you can enter your promo code to reduce the price of Maxon One.
Click on Enter a promo code and then paste your code. This will reduce the cost to $9.99 USD. Proceed with the checkout.
After purchasing the license, you will see a link to the downloads page. Click this and then download both Cinema4D and ZBrush from their respective links.