Ready for take-off: RRC Polytech and StandardAero propelling to new heights of aircraft repair
A project testing new aircraft repair technology is about to take flight. RRC Polytech's Technology Access Centre for Aerospace and Manufacturing (TACAM) and StandardAero are collaborating to validate whether this new technology could be effectively implemented for repairing aircraft components.
Maintenance, repair and overhaul (MRO) is a critical but costly measure for aircrafts, required after only a few years, with the body of an aircraft far outliving individual parts. With the shift to aerospace components increasingly being made from light alloys and the exceptionally high safety standards all aircraft manufacturers and MRO companies must adhere to, come additional challenges.
While light alloys allow for light-weight aircraft parts, they are highly susceptible to degradation and oxidization, which increases the need for costly maintenance and repair. Additionally, because the alloys are highly reactive, traditional methods of repair, like welding, are not viable options.
RRC Polytech and StandardAero, one of the aerospace industry's largest independent MRO providers, are embarking on a year-long project to test and validate cold spray technology for repairing aircraft components. Along with validating the technology, includes the challenge of meeting Original Equipment Manufacturing (OEM) repair standards.
About cold spray technology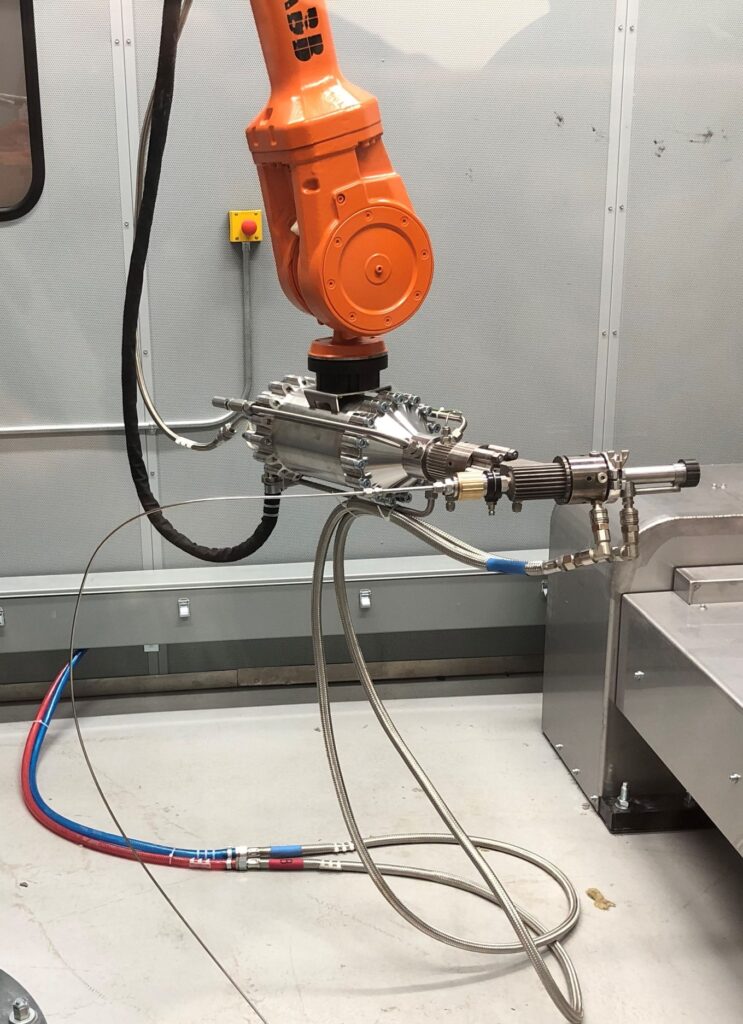 Cold spray is an additive manufacturing process where metal particles half the thickness of a strand of hair move at twenty-three times the speed of sound, impacting to a surface to form a bond. This process occurs at a very low heat, unlike traditional welding repair.
TACAM brings experience in cold spray technology from ongoing projects, including a contract with the Government of Canada's Innovation for Defence Excellence and Security (IDEaS) program to develop a light-weight coatings.
Leveraging TACAM's experience and the long-standing relationship with StandardAero, the two organizations are aiming to reach innovative new heights of aircraft repair, continuing to propel Manitoba as a hub for aerospace and advanced manufacturing.

The cold spray project will take place at the Centre for Aerospace Technology & Training (CATT), co-located at StandardAero's Plant 5 facility, engaging RRC Polytech researchers, faculty and students. It will be an opportunity for both the College and StandardAero to build in-house capabilities, provide training, and help foster technology transfer to support this method of MRO.
The project also represents a rich work-integrated learning experience for students to put their robotics skills into action, as the project will be taking place in a fully automated robotic cell. Students will learn about characterization of materials and OEM standards, test the cold spray process, and enhance their technical writing and project management skills.
RRC Polytech is known for getting its graduates hired by industry. And this collaborative project highlights the unique advantage of students working directly with researchers and industry partners to gain experience with new and emerging technologies, helping them develop in-demand, future-focused skillsets.
Along with providing highly skilled graduates, this project has potential for a broader impact across our province. RRC Polytech's Research Partnerships & Innovation (RPI) enterprise, which includes TACAM, is strategically positioned to support small- and medium-size enterprises (SMEs) – that typically do not have the personnel or funding for in-house R&D – with technology adoption and innovation efforts. The new experience and capabilities developed with cold spray technology can be transferred to support SME partners in varying sectors across Manitoba.
For updates on this project and the latest RPI news at RRC Polytech, stay tuned to the Research blog, or subscribe to blog updates, here.