Exchange District Campus Fall Showcase and Market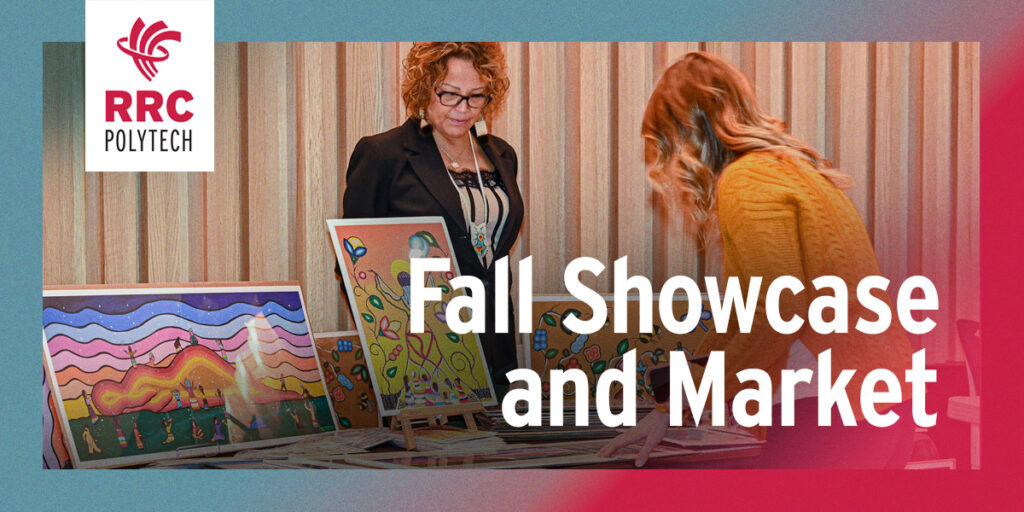 The Fall Showcase and Market is on Wednesday, October 11 at
Market – 10:00 am to 3:00 pm.
Showcase – 10:00 am to 6:00 pm
Exchange District Campus.
We are thrilled to invite you to the first Annual Fall Showcase and Market, showcasing a variety of programs that we offer, and a market offering a range of handcrafted items, artwork, crafts and innovative products. All created or curated by our talented RRC Polytech students, staff and alumni.
In addition to shopping, there will also be creative workshops, and various activities, ensuring a day of fun and festivity.
Entry is free for visitors, and all are welcome.
Mark your calendars for October 11th, bring your friends and family, and enjoy the bounty and creativity of the season at our Fall Showcase and Market. We look forward to seeing you there!
Vendors Confirmed
We have a variety of vendors confirmed selling everything from cookies, books, artwork, honey, candles, jewelry, crochet, hats and scarves, Christmas decor, Indigenous art, and more!
Starz Align
Yarnedndanderous.xo
Gibson's Goodies
GMB Chomichuk
Bamboo Worldwide Products
Earthy3DPrints
Just Bee Honey co.
AgnostosMasterCo
Bear and Beans Design
Operon Trinkets
Vale's Delights
OtakuCorp
iHooked
Electric Impression
Marceleria
Crafty Anastasiia
Cree Indigenuity Art & Design
Bites of Bliss
Da-Zired Keepsakes
Krafts by Kandi
Channy's Custom Cookies
Royal Bee
Pixie Design
Art Soap Life
Professional Baking and Culinary Arts Department
The Sergin' Mary
Anishinaa-Bakes
Little Cedar Designs
OH Collection
AADA Naturals
Bond Invention House Inc
Senor Fletcher's Galeria
Rue de l'Amour
L.o.v.creationsbyjj
Art of Jackie Traverse
Warm & Cozy
Anishinaabe Girl Designs
Red Thunder Cloud Beads
SICD
Annastacia Creations
Angela's Native Creations
World Financial Group
Student Association
Showcase
Program areas from the following areas will have a table in Manitou a bi Bii daziigae to showcase their programs. Find their table to learn more about the programs offered.
School of Continuing Education
Hospitality, Tourism, Culinary and Baking
Computer and Information Systems Technology
Applied Commerce & Management Education
Automotive Trades
Teacher Education
Global Access
Recruitment and Alumni
Pumpkin Carving Contest
Participate in the Pumpkin Carving Contest in the Elgin Plaza for the chance to win an RRC Polytech prize pack!
Time: 10:00 am – 2:30 pm
Criteria: Carve the Funniest, Scariest, or Most Unique/Creative pumpkin for a chance to win!
Judging: 2:30 pm – 3:00 pm (winners will be contacted after the event)
Pumpkin Carving Contest Rules
Eligibility: The contest is open to everyone.
Pumpkin Submission: Each participant can only submit one pumpkin into the contest.
Carving Tools: Only the tools provided are allowed.
Safety: Participants must follow all safety College guidelines.
Time Limit: If the carving is being done on campus and take no longer than 30 minutes.
Prize Categories:
Most Unique/ Creative
Scariest
Funniest
Originality: Designs must be original.
Judging: A panel of judges will evaluate the pumpkins based on creativity, craftsmanship, and originality. The decisions of the judges are final.
Display: All completed pumpkins should be displayed with a number on them corresponding to the sign-in sheet, without revealing the carver's identity, to ensure impartial judging.
Prizes: Prizes can be awarded for each category.
Cleanup: Participants are responsible for cleaning up their workspace and disposing of pumpkin remnants properly.
Participants: can pick up their pumpkins at 3:00 that day.
Photos: By participating, carvers agree that photos of their pumpkins may be used for promotional purposes. If minors are participating, parental consent may be needed.
Disqualification: Any pumpkin that does not adhere to the rules may be disqualified.
Pumpkin Carving Rubric
| | | | | |
| --- | --- | --- | --- | --- |
| Visual Impact | 4 Points Each "In Awe!" "Fabulous" | 3 Points Each "That's a job well done" | 2 Points Each "Okay, I see where they were going with that" | 1 Point each "What?" "I don't get it!" |
| Craftsmanship and Quality | 4 Points Each The pumpkin is exceptionally attractive and well-constructed | 3 Points Each The pumpkin is attractive and has good construction. | 2 Points Each The pumpkin is acceptably attractive though it may be a bit messy | 1 Point Each The pumpkin is distractingly messy and/or the craftsmanship and skills are poor |
| Originality | 4 Points Each Exceptional use of new ideas and originality of pumpkin design | 3 Points Each Good use of new ideas and originality of pumpkin design | 2 Points Each Average use of new ideas and originality of pumpkin design | 1 Point Each No use of new ideas and originality of pumpkin design |
Attend a Workshop
Join us in the Roundhouse for a variety of workshops from making your own wooden spoon, candle making, and designing your own puzzle.
Spoon Carving Workshop
Wednesday, October 11
Session 1- 10:00am – 12:00pm
Session 2 – 1:00pm – 3:00pm
(drop-ins are welcome)
Registration fee: $10.00
Includes:
-beginner instruction
-spoon cut-out
-all materials required
-use of tools
Russ Kubara has been wood carving since 2008 and has been instructing beginner workshops for over ten years. An emphasis will be on safety.
This spoon project will introduce participants to several techniques of using a woodcarving knife that will enable them to get started on the road to a very therapeutic pastime.
Sushi Candle Making
Join us to make beeswax Sushi Candles! Sushi Beeswax Candles are artisanal candles crafted to resemble popular sushi pieces, using pure, natural beeswax as the primary ingredient. These candles not only offer the gentle, honey-like aroma of beeswax when burned but also serve as a decorative centerpiece. Ideal for sushi lovers and those looking for a special touch to their decor.
Additional Activities
Draw your own puzzle
Make a wooden circle ornament
Make a yarn doll
Design and make your own mask